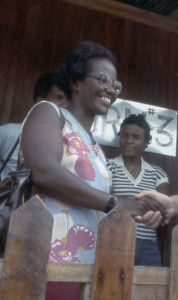 Alice Inghram was always special to me. Partly it was her patience, partly it was her skills in working with people to get things organized and done, partly it was that we shared the same birthday of September 24.  I was always proud to share that with her, for it meant we were both just good people!
Alice came from San Francisco to Redwood Valley in the early '70s and operated a residential care facility for older adults. Her daughter Ava came with her, while her husband Jimmy remained in San Francisco. There was no rift between them, he just had a good job. Alice didn't go to Guyana until late in spring of 1978, since she had her own job to do in Redwood Valley, first maintaining, then shutting down facilities there. Jimmy never went to Guyana, survived the deaths of his wife and daughter, and is still living in San Francisco.
Alice was a hard worker, as most in Peoples Temple were, but Alice was more so than most. She never complained, and always had a whole-hearted smile. She was a no-nonsense person, but had a sense of humor that she made good use of. She was a counselor because she was good at it: she could see several sides of a situation and resolve what needed to be done when problems arose. People listened to her.
Ava was pretty much the same as her mom, as much as a youngster in first grade could be – quiet, well behaved, never a problem. She went to school in the Bilingual Program in which I taught Kindergarten.  Her teacher was Mexican-American, whom I recommended, as she worked well with all kids. She addressed cultural concerns positively and honestly in the classroom. She also taught my son, whose behaviors were often challenging. She worked well with him, too.
The teacher has since told me one of her experiences in teaching Ava. One topic of concern in those days was what "names" to use for various cultural groups, and this teacher wanted to know what African Americans wanted to be called. In an open-ended way – without giving her choices – she privately asked Ava what she preferred to be called. Ava went home and asked her mom. With a smile in her voice, Alice told her to just say, "Ava." When Ava told her teacher – much to the teacher's chagrin, she confided to me – she also taught her teacher, something far more important than political correctness: we are all people before we are ever any label.
I still chuckle at the honesty and simplicity of the answer. To me that has always characterized what Alice Inghram conveyed in all she did. Thank you, Alice and Ava!
(Don Beck was a member of Peoples Temple for ten years. He directed the Peoples Temple children's choir during its Redwood Valley years and made several trips to Guyana during its pioneer days. Beginning about 20 years after the tragedy, shortly after this site went online, he became one of its most dedicated researchers, transcribing Edith Roller journals, reviewing and analyzing Jonestown records released through the Freedom of Information Act, and compiling them for the first section of documents on the Jonestown Research page. He also contributed numerous articles and remembrances. Most of those writings may be found here.)
(Don died on July 9, 2021, following a lengthy illness. He was 78.)
Originally posted on July 25th, 2013.
Last modified on July 24th, 2021.