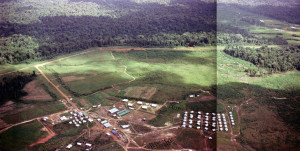 Almost seven years after the efforts first began, all the Edith Roller Journals located to date have been transcribed from her notes. We have found journals from 28 months covering from 1975 to August 1978, and while we are vigilant in searching through new documents in search of the missing months – especially from the fall of 1978 – we haven't discovered them yet.
The journals are listed in a table format: simply click on the month you wish to read. At the end of each month's transcript, we have included people and locations whom Edith names in that month.
Below the table listing the Journals, are other materials to help with reading them. This includes: several indices to her journals, listing people, places, and events chronicled by date (year/month); calendars for years covered; index to names in 1978 (month/day); a detailed index of life in Jonestown in 1978, detailing meals listed, get up times and to bed times for about three-fourths of the entries; and more. Indices are searchable pdf files.
If you scroll down to the bottom of the Edith Roller page, you'll also find brief summaries for each month's entry giving a quick overview of what can be found.
As the manager of the Jonestown Research Page, my projects for the coming year include working on a new expanded map and showing the farm animal housing as well as the central area. New photos from FOIA give more details about the areas. A basic timeline should also be added this coming year.
(Don Beck was a regular contributor to the jonestown report. His other articles in this edition include Eva and Jim Pugh, Remembrance of Alice and Ava Inghram, What I Still Carry With Me, and Materials Gathered by FBI RYMUR Investigation: Is there more?. His complete set of articles for this site appears here. He is also the principal researcher and writer for the link at Jonestown Research.)
Originally posted on July 25th, 2013.
Last modified on December 26th, 2022.