The Miniaturization of Jonestown
by Daniel Russell
My sculpting began in childhood with my interest in Steven Spielberg's movie Jaws. I began sculpting Great White sharks out of Play-Doh, then moved on to Tiger sharks and Hammerheads. I began creating action figures and animals but then moved on to other interests. I picked it back up in my high school art program using more serious clays and kilns, but had become discouraged when some fellow students stole my finished work out of the common room. The ideas for my current work were hatched back in 2007 in my brother's living room, when he challenged me to do a bust sculpt of their step-daughter, and I agreed, counter-challenging him to quit smoking.
Variable Sculpt Formats
I work primarily in the 1/16-1/18 or basic dollhouse scale. My work is presently an experimentation in progress in that I am still developing and finding new and more detailed ways to recreate images. I began by doing full image sculpts of figures in photos using a multi-part process such as in model kits or life-size bronze statues. I branched off into creating my own dolls fitted with head sculpts created from photo images. These are essentially miniature mannequins that can be in a limited way posed into standing or sitting positions.
Dissatisfaction with available limited scale clothing articles was a primary motivating factor in creating my own reproductions. The manufactured products didn't have belt loops and individual pockets and liners as seen on the real articles. I learned how to recreate the leather shoes, combat boots, and jackets worn by World War II combat pilots. I started with small scale cloth articles when I began recreating rank insignia for my Dragon and Blue Box action figure uniforms to replace the less realistic plastic fittings.
My initial hard median is porcelain used for the original sculpt parts which are fired in a kiln, sealed, then molded using a silicone mix process. Once the molds are made, I use resin epoxy mixes or hand mix putty is used to mold the reproduction parts which then have to be sanded, reshaped, fitted, and finally painted. The reproduction process is the most difficult, and I learned that one has to have a great deal of patience for this type of work.
Peoples Temple/ Jonestown Project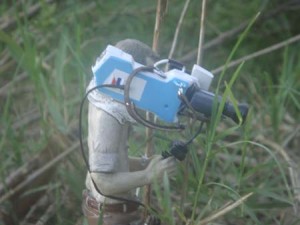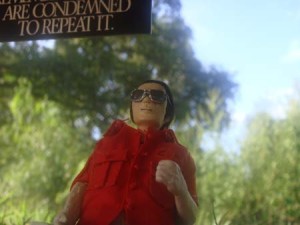 My type of work is a process of making a photographic image into a three-dimensional sculpture or – similarly – turning a photograph of a person into a real life character. I am most interested in working with historical events and figures. When I decided to apply this process to Jonestown, I began with black-and-white photos taken by San Francisco Examiner photographer Greg Robinson and color video images shot by NBC cameraman Bob Brown during Congressman Leo Ryan's visit to Jonestown on that final weekend. From there, I went to video images from Peoples Temple own promotional materials and from various other documentaries, as well as photos out of old books from the U.T. Austin library. When using video, I had to still pause the player and do a pencil sketch rendering off the screen of some of the characters and structures. Some of my figures are completely outfitted and painted or dressed in reproduction clothing, although their setting backdrops are still under construction.
I'm working on a 1/16 scale rendering of the stage section of the pavilion with the raised platform, plank chair and table under a section of tin roofing. The scene here can be arranged according to a photo or rearranged accordingly as with any dollhouse or life-sized acting stage. This diorama setting will double as a backdrop for a recreation of aftermath photos, such as those taken by Time photographer David Hume Kennerly and Washington Post reporter Frank Johnston. I can goof around with these, if I like, by placing my Ed O'Neal/Al Bundy or Jerry Springer characters in the chair in place of the Jones character. I'm also working on a 1/18 scale full sculpt rendering of the various reporters surrounding a very calm looking Jim Jones in his final hours, but this has been delayed as I've decided to add more characters in the photo.
Recreating a scale version of Brown's news camera was the first actual model that I ever created and one of the most time consuming projects. I started two projects imaging Temple photos from happier times taken from an old Newsweek, but these are still in the green ware stage. Some of my original ideas are complete, but I decided to add more and I have to enlist help in some cases such as getting with a metal fabrication specialist to recreate the pavilion roof paneling.
Appeal
I need a good photograph of the Redwood Valley church pulpit and back wall/choir area (interior shot empty)as well as the carpet color in order to scale it down for one of my figure images. It would also help if I had some images of the deserted pavilion floor in Jonestown if any exist.
Please feel free to contact me at russellscaledown@gmail.com. I thank you for your assistance.
Originally posted on July 25th, 2013.
Last modified on December 5th, 2013.