(Jennifer Gibbons lives in Lafayette, California. She is the grand prize winner of the Red Room Housewarming contest and one of the winners of the Summer Reading Experience Contest. Her other articles are As Long As There's Life, There's Hope and The Guyana Tragedy Myth. Her complete collection of writings for this site may be found here. She may be reached at jenniferkathleengibbons@gmail.com.)
For me, Jonestown has always been about the people who survived.
All of us have seen the awful images of the people on the ground. What we don't think about are the traumatized people at the Temple's Georgetown house at Lamaha Gardens, wondering what was going on. We don't remember the people hiding in the bush – at the airstrip, around Jonestown – wondering if they were going to make it until morning. We forget the Temple members back in California – in Ukiah, Los Angeles and San Francisco ­– peering into angry crowds forming around their shattered former existences. We don't even consider the relatives, scared and sick to death, powerless over what was going on.
Every one of these people survived Jonestown, even if they weren't actually there. In many ways, how they have lived is less extraordinary than the fact that somehow they have lived after the worst happened.
This site tells us who some of them are. In addition to the list of everyone who died on November 18, 1978, it provides a list of the 87 people who were in Guyana that day and who lived. That survivors' list is dwindling with the passage of time, and the deaths are acknowledged there.
More important is another link at the Who Died? page: the listing of everyone – survivors, former members, relatives, government figures, anyone connected to the Peoples Temple story – who has died since November 1978. I was glad to see the listing which honors so many people, yet saddened when I saw the lack of specific information about a large number of them, especially on the dates of the deaths. "Died in the 1980s," one read. "Died earlier this decade," read another. Or – saddest of all – "Date of death unknown."
I've always believed when someone dies, people should know the day they were born and the day they died, to complete the full circle.
I had a subscription to ancestry.com and its partner site, legacy.com, so I decided to try and find out if I could help bring some closure for people who knew and loved these survivors.
* * * * *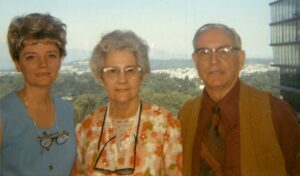 I started with the Baldwins, the parents of Marceline Baldwin Jones. I only had basic information: first and last names, plus Richmond, Indiana, the town they lived in all their lives and where they died. It turned out to be enough. With their first and last names, plus a guess of what year they died, the online service could help find a birth date for each of them, and the exact date of death. I soon found out Marceline's parents died within six months of each other in 1992 and 1993, and those dates are now listed on this site. I also found a 1930 census report that listed the Baldwins, including a two-year-old Marceline.
The next person I looked for was Edith Parks. I remembered her from Stanley Nelson's documentary. Sitting with Christopher O'Neal, she nodded when Jackie Speier asked if they wanted to leave Jonestown. She was a small woman, clad in plastic covering, her face telling all: She'd had enough. She wanted to go home.
Again, I started with what I knew. Her age was listed in 1978 as 64. I figured from that that her birth year was 1914. I entered the info in. First name Edith. Last name Parks. Born 1914. Within seconds, I found out Edith Parks died on April 1, 1985 in Ukiah, California. This was another tip-off that I knew it was her: Many people went back home after everything.
However, some people moved away to start over again. That was the case with Helen Swinney, who was on the Cudjoe when the tragedy happened. Once again I typed in her first and last name, then her birth year. The search came up with a couple of Helen Swinneys, but – with the middle initial I found on this site – I got a match. Helen Swinney died in North Carolina on October 17, 2009.
There are still names to look up, people who had hopes and dreams, people who lost someone, people who deserve somehow to be recognized. When I do the research, I am reminded of a Billy Collins poem entitled "The Names," which he wrote about the 9/11 victims. I feel the poem also fits both the survivors and the people who died on November 18th, especially its last six lines:
Alphabet of names in a green field.
Names in the small tracks of birds.
Names lifted from a hat
Or balanced on the tip of the tongue.
Names wheeled into the dim warehouse of memory.
So many names, there is barely room on the walls of the heart.
Originally posted on July 25th, 2013.
Last modified on January 5th, 2023.