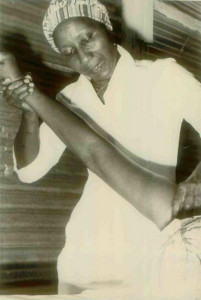 Johnnie Mae Yates, who later changed her name to Nedra Yates, was a dynamic member of Peoples Temple in the United States. With her face chiseled into planes and angles, and her demeanor crisp and smooth, her profession as a physical therapist seemed to consume her physical presence. You could learn about her nature as she walked and took care of business. She was the consummate massager and re-arranger of everything around her.
I didn't really get to know Nedra until I lived with her in Guyana. In Jonestown, she was meticulous in all details of her life. Edith Roller noted in the journal she kept in Jonestown that no one could be messy or cluttered around Nedra – so Edith opted to work on her sewing in another cottage! Still, I loved being around her. She flowed as she took charge of wherever she was, straightening out areas and people in a firm and matter-of-fact way.
Nedra and I were among the fifty or so survivors who were in the Georgetown house in Lamaha Gardens – away from Jonestown – on November 18, 1978. Even now, I use the word "survivor" advisedly when describing that period. We were really just "breathers and criers." But as we sorted out our lives and took it day by day, we made our choices. Soldiers in the Guyanese Defense Force watched over us as new horrific details about the deaths in Jonestown slapped us every minute. They believed they were "protecting us from ourselves." I believe they were justified in thinking that.
Eventually, the US and Guyanese governments agreed that some of the survivors could return to the United States. Those in the house who were considered "safe" or even "harmless" left Guyana. At that point, Nedra once again took charge of her own life. She opted to stay and marry a member of the Guyanese Defense Force. Her husband-to-be had stayed on duty in our home there, and he and Nedra had formed a bond. She had made up her mind, and while the rest of us left, she remained behind.
I never had contact with her after I returned. In time,  I heard that the relationship failed, and she eventually returned to the United States.
Nedra was independent and strong. Her decision to stay in Guyana at that time reflects the kind of trust she had in her own decisions and her strong will to stand by them. She was a wonderfully stalwart and valued member of my adopted family.
(Laura Johnston Kohl, who had lived in Jonestown but was working in Georgetown on 18 November, died on 19 November 2019 after a long battle with cancer. She was 72. Her writings for this website appear here.)
Originally posted on July 25th, 2013.
Last modified on November 20th, 2019.