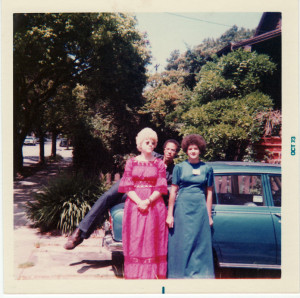 When most people hear about Peoples Temple, the subjects they are most curious about are fairly predictable. They wonder about the community of Jonestown isolated in the jungles of Guyana, they wonder about its leader, Jim Jones, and of course, they wonder about the events of November 18, 1978. One question that is not asked often enough is: Who were the members of Peoples Temple?
While some former members are familiar to us all, either through their own writings on sites such as this one, or their appearances in documentaries and news programs, there are many members who contributed a great deal to society that people do not know of. One such member is Diane Lundquist, a person who lived with integrity and dedication to right living and to caring for our most precious gifts: our children.
Diane Lundquist was a teacher, a mother, a wife and a Peoples Temple Member in good standing. While Diane, her husband Pat and children Dov and Jamal all perished on November 18, 1978, their story lives on in the hearts of many.
I had the pleasure of speaking with Diane's younger sister Jordan Vilchez who was a member and has written a number of articles and poems for the jonestown report. Jordan relates the story of Diane in moving and compassionate words that only a sister can truly tell.
Diane and Jordan first heard about Peoples Temple in the early 70's when a friend in Ukiah told them of this incredible place where the members were enthusiastic about living in harmony and setting an example of sister and brotherhood among people of different races and ethnic backgrounds. They spoke of peace and equality and justice for all people. In joining Peoples Temple, the sisters found love and happiness they had never experienced in the outside world. They had found a community.
Jordan would soon go to live with Diane and her family. The move to Redwood Valley was a far better option than the streets of Berkeley had to offer for young women in the early 70's. Instead, Peoples Temple gave them a new mission in life: To make the world a better place.
When the girls were not in school or working, they were diligent and loyal members. They would spend countless hours on letter writing campaigns to prisoners, or working with other people and organizations that were making a difference outside of the Temple.
Diane understood the challenges of raising two small children with a limited income. The young biracial woman was married to Pat Patterson, a black man. Within Peoples Temple, interracial marriages were not frowned upon, but rather encouraged because it demonstrated that they lived their ideals in their personal lives.
Diane's children Dov and Jamal experienced the security inherent in living within a closed community of so many people and other children who were also members of the Temple.
When Diane went to Jonestown, she, unlike many other members, was able to maintain a more of a relationship with her children because Diane taught the children there. Diane was conscious of the effects of setting a good example for children and attempted to act in the highest ethical manner when it came to teaching young people.
Diane Lundquist was soft and sensitive and made the world a better place by teaching love and kindness simply by being who she was in a very natural and gentle way.
On November 18, 1978, the world lost a great person in Diane Lundquist. She is far more than a statistic; she was gentle spirit who's quiet dedication to love and a better life for many, lives on in the hearts of many. The legacy of Diane Lundquist will never be forgotten. For those that knew and loved Diane Lundquist, she will forever be known as a person who strived to make the world a better place. Diane Lundquist succeeded.
In the words of her sister Jordan Vilchez, "Diane was the gentlest spirit I have ever known and she left with no 'baggage'."
(Bill Neri-Amadeo is a lawyer who lives in New Jersey. His complete collection of writings for the jonestown report may be found here. He can be reached at AmadeowLaw@Aol.com.)
Originally posted on July 25th, 2013.
Last modified on December 13th, 2013.