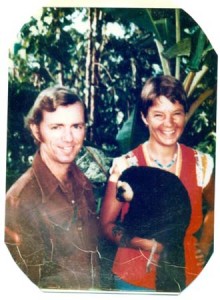 Ronnie and Nancy Sines were my first cousins on my mother's side. As with other families back in the 60's growing up together, we were in and out of each other's homes daily. They were older than me and larger than life.
They did almost everything together, in life and even unto death. They both left an indelible impression on me, Ronnie with his infectious smile and gentle nature, and Nancy with her very young heart that would play with a kid like me. Nancy also had awesome artistic talents. She saw things through her eyes that she was able to express with her artwork.
I was told that she was the artist of Peoples Temple and painted many of the signs and artwork throughout Jonestown, including the sign that hung over the main gate. Ronnie was a carpenter there, and built many of the community's structures as well as some of the children's toys.
I remember that fateful day of November 18, 1978, and the week of not hearing from them. I remember our family's hope that they were in the group that survived was heart wrenching. I remember the devastation of the confirming news that they were among the lost. I remember the weeks and months of grief that our family went through afterwards.
I never wanted to forget my cousins, so eight years later, my husband and I named our third child Ronance Lynay Jackson. Ronance stands for Ronnie and Nancy, and her middle name Lynay is an acronym for "Love Your Neighbor As Yourself."
Isaiah 55:10-11 says: "For as the rain cometh down, and the snow from heaven, and returneth not thither, but watereth the earth, and maketh it bring forth and bud, that it may give seed to the sower, and bread to the eater: So shall my word be that goeth forth out of my mouth: it shall not return unto me void, but it shall accomplish that which I please, and it shall prosper in the thing whereto I sent it."
That is the legacy Ronnie and Nancy left us with. Their living has not returned to the maker void, but has gone forth to bud and to water the earth and accomplish that which The Lord has sent it through this child.
| | | |
| --- | --- | --- |
| Art by Nancy Sines | Art by Nancy Sines | Art by Nancy Sines |
(Jennie Jackson can be reached at thetrainerlady@yahoo.com.)
Originally posted on July 25th, 2013.
Last modified on December 28th, 2013.