O' trade wind, when the kind breeze blows,
As the rain tingles on the roof of the tropic island
Birds fly to their nests in the trees,
Little creatures hiding from the storm.
Joyce Polk Brown 1960-1978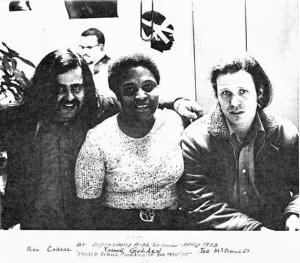 Ron and I have been working on our book for four years now. It's gone through three major transformations and countless smaller changes. We've learned a great deal in the process: about Jonestown and Peoples Temple; about our students, 33 years ago, at Opportunity High and where many of them are today; about the important but often liquid line between fact and fiction and about the vagaries of memory. Most important, we've learned that many generous people want to help us get the story right, and understand our reasons for writing it.
The purpose of the book, expressed in our newest introduction, remains the same.
Ron and I have written this book in order to allow readers to know the idealistic, socially responsible, hardworking students we met in 1976 just as we did – as real, flesh and blood human beings, not as symbols of tragedy, nor as mere numbers in a report of deaths. With that in mind, we have written the book more in the style of a novel than as a journalistic report… This book is our way of making a memorial to the young people we knew who died, and giving tribute to the courage of those who lived, and kept on living, in spite of the collapse of utopian dreams, in spite of haunting nightmares, in spite of almost unimaginable grief and loss.
Joyce Polk's poem has also endured through all the versions because it has become a kind of symbolic anchor to the story. Sadly, we know little about her except that she was a poet, and that her aunt Lucy Crenshaw also died in Jonestown. Joyce's biographical box on the Who Died list gives no other relatives – no birth mother or father, no one – and Lucy's listing is almost as empty.
When Joyce wrote the epigraph above in my class, she was no doubt thinking of Jonestown as a beautiful tropical shelter for animals – animals appear often in her poems –  as well as for the people of the Temple. Ron and I knew nothing about Jonestown or the impending exodus to Guyana then. Joyce arrived in Guyana on March 15, 1978, much later than most of our students, when conditions were crowded and the community had grown more fearful, more cut off from the rest of the world. The "storm" in her poem was fast approaching.
The genesis for the book came in a call from Ron, who asked if I had seen Leigh Fondakowski's play, The People's Temple. He thought we might want to do something in the same vein, with our students at the center. After seeing that fine piece of work and reading Denice Stephenson's Dear People, I thought so too.
We began at the California Historical Society, looking for clues to what our students' lives had been like after they left Opportunity for Guyana in the spring and summer of 1977, only six to nine months after their entry into our small alternative school.
We culled through old files we had kept from those days at Opportunity: baseball statistics, school newspaper pictures and articles, the school poetry magazine, the final list of the dead in the Sunday, December 17, 1978  Examiner-Chronicle. We read books and articles. And of course we went to this site, especially to the Who Died list, to look once again at the faces of our students and try to pull up more memories. (Almost all the many school photographs by teachers and students from those days, sadly, have been lost.) We went to panels to hear survivors' stories. At one, Gene Smith agreed to an interview with me, and I learned about the fates of my counselee, Ollie Smith, his wife, and their baby, Martin – a love story and a tragedy. Ron and I also began to attend the memorial services at Evergreen Cemetery in Oakland. We spoke with Stephan Jones, my counselee, and Johnny Cobb, who had been on the Opportunity baseball team Ron coached.
The first version of the book was a rather blocky catalog: Ron's memories of the Opportunity baseball team, a team made possible by gifted Temple athletes; my memories of the Creative Writing class and the Temple poets; a summary statement about what happened to each student, who died and who lived; the story of Stephan and Tim Jones visiting Ron at a baseball game at the school where he taught in 1979; the story of Ollie and Gene; a synopsis of our research at CHS; and Lawrence Wright's moving New Yorker article, "Orphans of Jonestown," which he kindly gave us permission to use.
Then Tim Reiterman,  author of Raven, whom we'd also met at a memorial, said he'd be glad to read the manuscript and give us feedback. "It needs to be a story," he said, and we knew he was right. So I set out to make it into one, using my imagination to fill in the gaps. I called the story "creative non-fiction," not realizing the anxiety that innocuous phrase would arouse in publishers and agents after the Oprah scandal involving A Million Little Pieces, James Frey's largely fabricated "memoir." Not wanting to alienate the publishing world, we did some serious soul-searching. Now we're aiming for an account that's as close to the truth as possible, yet still retains the feeling and emotional appeal of a story.
Upon advice from writers and editors we've consulted – including a former student who now has four published young adult novels – we've changed the voice in the book from a rather vague point of view of the teachers in general, to one more personal voice, mine. Of course Ron is there too, telling me about scenes I did not or could not have seen, on the baseball field, or in his classroom. We've deleted made-up characters, and corrected times and dates. We've added a timeline with references to books, newspaper and magazine articles to back up and supplement the story, as well as a bibliography. As always, this site is a major and valuable source of information.
Researching, writing, and coming to understand more of the implications of this story has been an eye-opening journey. Along the way, we've come to see certain parallels between the Temple members and ourselves, the Opportunity teachers, all of us idealistic products of a more open, less cynical age. We teachers too, on a much smaller scale – and minus the disastrous and tragic consequences – followed a leader who lost the way. Jim Jones saw our principal, Yvonne Golden, an avowed and outspoken socialist, as an ally. She, in turn, saw him as a sort of ideological "Number One." To please him, she bent the rules of the protocol we had set up at Opportunity. Up until that point, we had been careful  to enroll students on a case-by-case basis, making sure that each one was interviewed by teachers and students, that they understood our policies. Many of our students had troubled lives and were failing in school. We wanted each of them to buy in to the ideas of Opportunity – and to learning.
But when Jones asked for automatic admission for the Temple kids, Yvonne bowed to his wishes. We didn't get the chance to meet each of the Temple students one at a time. Instead, they entered in groups of a dozen or so. In hindsight, we should have insisted that Yvonne stick to our policy. If we'd interviewed them individually, maybe we would have noticed more about these very likeable kids.
In the fall of 1977, as the school drifted farther from its founding principles, many of us left, and more continued to leave. For many, that parting was painful. We had created a school both to help students who had become disaffected and had fallen behind, and to attract students who wanted an alternative that allowed them more freedom to choose. But the school just wasn't the same any more, and we had to face that fact.
Perhaps the most rewarding part of the journey is the people with whom we've connected and reconnected. I've come to know my counselee Stephan much better. His amazing story, "Ruth's Teeth," took Ron and me to the Jonestown our students knew with a description of one incident, full of gritty physical detail and a strong sense of  camaraderie – the humor and the horrible, side by side. Stephan also helped set me straight when my imagination made the arrival of a group of our students in August of 1977 a joyous affair. I know there were good times in Jonestown, but I'm beginning to grasp the complexity of the Jonestown story, how opposites could stand side by side, and I now realize our students would have felt fear upon their arrival. Things had changed by then.
Linda Mertle's story in last year's jonestown report led to a meeting with her. She's another person I'm glad I got to know better than when she was a student. At that time our paths intersected only briefly, before she left the Temple. Linda has let us know more about what was going on  in the lives of Temple students outside of school and has made some important additions and corrections to our story.
Another student, Carl, who was not in the Temple, but who grew up with some of the Temple kids we knew found my email address on the site and contacted me. I've had long conversations with Carl and his brother Ronnie, who was in Creative Writing with Joyce and remembers her well.
Ron has managed to contact other non-Temple students from those days, one who had a rough road as a kid – as did most of our students before the arrival of the well-behaved, rule-abiding Temple kids – with five years in juvenile detention centers. He's a lieutenant in the San Francisco police force now, happily married with children. I also reconnected with my counselee, Junior, who was on the baseball team, which was, for a while at least, a success because of the Temple kids – Tim and Jim Jones, Jr., Amondo Griffith, Teddy McMurry, Johnny Cobb, Billy Oliver –  who made it possible. Junior and his wife, daughters and grandchild came for a visit last year, and I'm looking forward to a visit from another former student who is now a nurse in Oregon – and who has some pictures of Opportunity kids, perhaps including those of Temple youngsters, in 1976.
It's perhaps no surprise – they were teenagers, after all – that we learned about forbidden (although very innocent), romantic liaisons between at least two Temple youngsters and our students.
Ron and I had a reunion of sorts with several Opportunity teachers as well, one of whom added the small but telling detail that Temple kids always came to school with a lunch in a brown paper bag. Two of these teachers were on the Temple bus trip to protest the arrest of the Fresno Four, reporters who had refused to reveal their sources.
These reconnections are heart-warming consequences of embarking upon the adventure of writing the book, and hopefully, will make the story more rich, more true. If any of you who read this have stories or details you think would add to the story, or stories that would help us aim closer at truth, we'd be grateful to hear from you.
* * * * *
Below is a list of students who went to Jonestown. We know others who were Opportunity students went to Jonestown. The school district has no records of those years. These are the ones we remember.
We're especially interested in what life was like for young people in Jonestown, and if there are friends or family members who can tell us more about these young people or others we might have known, please contact us.
Monica Bagby
Rory Bargeman
Marilee Bogue
Wesley Breidenbach
Joyce Polk Brown
Dorothy Buckley
Johnny Cobb
Candace Cordell
Cindy Cordell
Sonja Regina Duncan
Amondo Griffith
Ricky Johnson
Jim Jones, Jr.
Stephan Jones
Tim Jones
Lisa Lewis
Teddy McMurry
Linda Mertle
Christopher Newell
Billy Oliver
Mark Sly
Ollie Smith
Willeater Thomas
Cornelius Truss
Calvin Douglas Williams
Stanley Wright
(Judy Bebelaar can be reached at  judy@judybebelaar.com. Ron Cabral can be reached at larbac67@astound.net.)
Originally posted on July 25th, 2013.
Last modified on December 29th, 2021.