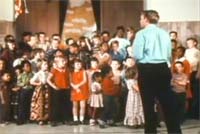 One of the things that first impressed me when I joined Peoples Temple in 1970 was its children. They were outgoing and open, eager and curious. In some ways I think as a community we worked to not shut them down, as is normally done in teaching children compliance, but at the same time, we didn't do enough with the energy that released. It seemed like we were always so busy with "other things."
The Temple had "church" activities for children such as Sunday School, but they were tweaked to be more practical. Instead we had Monday School (or Wednesday School, depending on people's schedules) at night for several hours. Children came to church for tutoring with school work at all levels according to their need. This could include a junior choir practice. And afterwards, they could take swimming classes in the indoor heated pool that took up half the church. Don Sly and others served as life guards and instructors.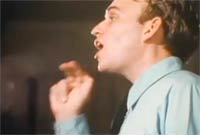 I had been a teacher for two years in Peace Corps, so once I joined the Temple and moved to Redwood Valley, I was quickly recruited to work with the children's program. As it turned out I was pretty good with organizing and working with kids. What I didn't know (which was a great deal), my partner taught me. So, I learned as I went. Soon Loretta Cordell had the wild idea that I direct the Junior Choir. I could hardly carry a tune, then as now! But she assured me that all I needed to do was "direct" them: get their attention, keep them singing on cue and so on. And directing the Junior Choir did work out just fine. I was good at making like a conductor with my hands, cuing, keeping the children focused, etc. I even gave pep talks on how to work together.
In Peoples Temple there were no hymnals nor choir books, though there may have been several dittos of a few songs we used to learn new songs. Most of the time, Loretta, Deanna Wilkinson and others would find and develop songs for us and play the piano. There were quite a few songs from the Junior Choir days in Indianapolis. Most songs we used had lyrics adapted from popular tunes or standards that most all already knew. There was never any fumbling to follow notes and words we had never heard before.
The song which I have the strongest memory of was the one which became our number to open services. "Welcome!" was a song from Indianapolis days. Surviving video footage of the Junior Choir shows the children singing the refrain, but there were several verses as well. They liked singing it out, and then punching the end with a vibrant shout of "Welcome!"
Junior Choir practice became more difficult to schedule as the church spread southward. Though I continued to conduct the choir in the Temple's Redwood Valley services, Frances Johnson, MaryAnn Casanova and others organized it for the San Francisco church, and local members led the children in Los Angeles.
Junior Choir was for children between 5 and 12. After that, they would transition up to the Youth Choir, led by Jack Arnold Beam. Jack was quite an excellent musician. He scored pieces for us to use, played a range of instruments, and was a good task master to get songs sung well. We had a band of six or seven folks playing guitar, trombone, trumpet, saxophone, piano, organ, bass and drums. Everyone who wanted to be in the Youth Choir could be. If you couldn't sing, you could mouth it! There were only a few of those, though.
The choir uniform for men was black slacks, a long sleeve light blue dress shirt, and black tie. Women wore light blue uniforms made of a permanent press heavy cotton material. There were periodic sewing blitzes to make the uniforms. Working from several sizes of a selected pattern, seamstresses took bolts of material, and cut out five to ten pieces at a time with special shears. Then sewing: hems, zippers, buttons, button holes, final fittings. Tables were set up in the church and sound of sewing machines continued for several days until all were done. The results were simple, impressive, modern and inexpensive – without the traditional choir robes.
The outfitted group had a great effect. The junior choir came up to sing their songs and then returned to their seats. The youth choir sat to one side in Redwood Valley, next to the instruments. Whoever were not seated there would come over for songs and return to their seats or duties after.
The choir had various songs, an ever increasing repertoire, as well as soloists, including Marceline Jones, Debbie Evans, Anita Kelley, Debbie Ijames, Judy Ijames, Joyce Parks, Melvin Johnson, Shirley Smith, Marthea Hicks, Shirley Hicks and Diane Wilkinson. During services, others in the congregation would offer or be called on to sing. I remember Patty Cartmell singing a particularly haunting song, "Going Home."
More than that, there was an atmosphere of encouragement in the church. Anyone could get up in front of the church and perform something if they wished. Children picked up on this and often got up to sing songs, read poems, tell stories, dance. Groups would put on skits. Liz Forman was someone with great dramatic flair (and experience) who worked with youngsters and oldsters in putting together skits to illustrate many things historical or making fun of things and more. Frances Johnson also did this. From this came skits, singing groups, dancing groups. That impressed folks in the church in California, and – later – in Jonestown and Georgetown.
The album He's Able is about all that the choir has left behind. Unfortunately most recordings of services did not include the choir or congregational singing. Hearing originals of songs we adapted to sing brings up many memories. I find myself starting to sing with the words we used, feeling chills up and down my spine, as I recall the camaraderie that connected our community.
(Don Beck was a member of Peoples Temple for ten years. He directed the Peoples Temple children's choir during its Redwood Valley years and made several trips to Guyana during its pioneer days. Beginning about 20 years after the tragedy, shortly after this site went online, he became one of its most dedicated researchers, transcribing Edith Roller journals, reviewing and analyzing Jonestown records released through the Freedom of Information Act, and compiling them for the first section of documents on the Jonestown Research page. He also contributed numerous articles and remembrances. Most of those writings may be found here.)
(Don died on July 9, 2021, following a lengthy illness. He was 78.)
Originally posted on July 25th, 2013.
Last modified on June 12th, 2023.