Jack Barron: Jonestown's Engineer
by Don Beck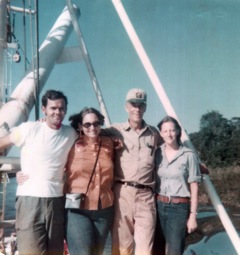 I met Jack Barron at what was known in Peoples Temple in Redwood Valley as "The Ranch." We had several animals there, as well as 40 acres of grapes. Jack did many of the chores around the farm, and he worked with the developmentally-disabled adults who resided there. He was always a responsible, hard worker, had a big, somewhat shy smile, and got on with almost everyone. His passport picture online makes him seem brusque and unapproachable, which was absolutely opposite from his nature.
Jack was one of those who asked to be on the first construction crew in Jonestown. With about 10 others, he drove to Miami and prepared for the voyage on the Temple's boat, the Cudjoe, to Guyana in August 1974. I was among those who greeted them when they arrived in Port Kaituma. At that time the first road had just been carved through the rainforest and the first acreage was being cleared. The people of that group erected several buildings, including Jonestown's first structure of a combination dormitory, kitchen and recreation area. During construction, folks rented a long building with rooms in Port Kaituma. Jack was also in Jonestown when I was there in summer 1976. He loved being there.
Jack was definitely an engineering-type, a chemical engineer I believe. He was always thinking of more things to do in Guyana, and then – more importantly – working on the "how," the process of actually doing and making things. For a group trying to build a city from a jungle, Jack had essential skills.  He pretty much single-handedly pushed the brick-making operation in Jonestown. Working with the clay he had found there, he figured out how to mix, form and fire the bricks in a large kiln we built there.
He also worked in setting up charcoal manufacture for use in Jonestown, as well as selling it locally and to the government. Soap was not made anywhere in Guyana at the time – it was all imported – so Jonestown developed soap-making capabilities with his assistance, even if that was not "his" project as much as the brick-making was.
A pioneer, a fix-it man, a farmer, an inventor and a developer.  That's how I remember Jack Barron. When I picture him, I see him dressed in khaki-color work pants and work shirt. When not developing ideas, he was out and about working in agriculture. He seemed to love just working with his hands – so it was natural that farming was something he liked. I found I liked that work myself, because it involved making things and it had a beginning and an end. From what I knew of Jack, I believe he was the same.
(Don Beck is a regular contributor to the jonestown report. His complete collection of writings for this site appears here. He is also the principal researcher and writer for the link at Jonestown Research. He can be reached at donbeck@cox.net.)
Originally posted on July 25th, 2013.
Last modified on January 3rd, 2014.