(John Moore was the father of Carolyn Layton and Annie Moore, and the grandfather of JimJon (Kimo) Prokes, all of whom died in Jonestown. His other daughter is Rebecca Moore, who – together with her husband, Fielding M. McGehee III – manages this website. John and Barbara Moore were married for almost 61 years, from 1943 until Barbara's death in 2004. John died in 2019.
(John Moore's complete collection of articles for this site appears here. Several of his writings contemporary to the Temple's existence appear on the Primary Sources page of this site, including "Notes and Reflections on our trip to Guyana," "A Witness to Tragedy and Resurrection," and a Statement written three weeks after the deaths.)
Carolyn Louise Moore was born on Friday, July 13, 1945. Shortly after giving birth, Barbara went into shock, but mother and baby came home a week later. Carolyn was a healthy, happy baby who talked before she walked. I was the Assistant Pastor of the First Baptist Church in Sacramento, and Carolyn became the darling of the church, because she was the first "parsonage baby" in twenty years.
Barbara and I had each lived in one house as we were growing up. Our future, and the lives of our children, would be very different. We lived in the two-story parsonage next door to the church. I learned to shovel snow, shovel coal into the furnace and bank the fire. Both of us learned the meaning of Spring House Cleaning, which included using a gummy pad to rub soft coal soot from walls and ceilings. Every morning Barbara took Carolyn to a day care center at the Campbell Christian Center a few miles down the Mahoning River. Carolyn was the only white child in the group. Her first Santa was the black director.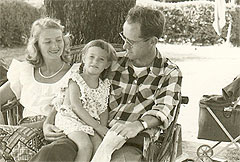 Youngstown, Ohio 1946-1948
In 1946, our small family moved to Elgin, Illinois, where I was an intern in the Clinical Pastoral Training program at St. Charles Industrial School for Boys, whose most famous tenant had been Al Capone. After a summer in Illinois, I accepted a call to the Himrod Avenue Baptist Church in the steel city of Youngstown, Ohio.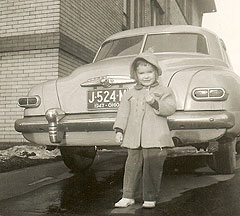 On our first Christmas Eve in Ohio, a complete stranger knocked on our door with a doll for Carolyn. He had seen her with us. (Several years later Carolyn wanted a Barbie doll. Barbara did not like Barbies, so "Santa" brought a different doll. Carolyn was unhappy with the substitute.)
Our second year would be one of the most traumatic in our lives. On Christmas Eve, Barbara had severe pain in the abdomen. We rushed to the hospital, where it became clear that her ectopic pregnancy had aborted. Unable to care for Carolyn during Barbara's illness, we asked a family we knew – and whom Carolyn liked – if our young daughter could stay with them. A month later, Barbara was still in the hospital, so her mother flew to Youngstown and took Carolyn back to California. The two sets of grandparents alternated caring for her. It would be more than six months before Carolyn returned to Youngstown, and the separation from us took its toll.
The first night back in our home, Carolyn wept inconsolably when I put her in her crib, so I put her next to me in a single bed. After a couple of weeks, I put her in her crib and sat alongside holding her hand until she was sleeping soundly. The next step was putting Carolyn in her crib and leaving the light on. Finally, I left the light on in the hall and her door open.
Barbara still didn't have the physical strength to share in Carolyn's care for another month or so. We talked about Carolyn with a pediatrician, who said that we could place her in a children's hospital in Cleveland for observation or that we could continue doing what we had been doing. He recommended the latter.
We were a happy family again, but the experience had affected all three of us. Years later I told Barbara that if I had to do it over again, I would not have separated Carolyn from both of us. I also told Barbara that I wanted to return to California.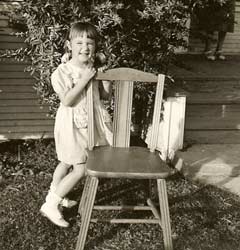 Del Paso Heights 1949-1952
We began our ministry as Methodists in Del Paso Heights, near Sacramento. The west side was black and poor. Young families, mostly veterans of World War II, lived in converted military housing or small new homes. The more affluent veterans populated the east side. The church was across the Street from Grant Union High School and the junior college was in the middle. Our parsonage was one of the best houses in the neighborhood.
The big event in Del Paso Heights was Barbara's pregnancy and then Becky's birth in February 1951.
Carolyn went to McClelland Elementary School for kindergarten and first grade. Her best friend was a Mormon boy who lived next door. We also opened our doors to young people to live with us, a habit we would maintain off and on for 30 years. The first was a middle school student from Kings Beach near Lake Tahoe, who lived with us for several months. Then a girl who had been in our youth group in Youngstown came to live with us for a year and attend Sacramento State College. She was good company and a help with the children.
Hayward 1952-1958
In late September 1952 we moved to Hayward in the East Bay, 25 miles south of Oakland. We lived in an old parsonage next door to the church, which was on the edge of the business district. The aroma of tomato sauce from the nearby Hunts cannery filled the air. Day and night during the tomato harvest, trucks, loaded or empty, rumbled past our home. A mortuary and dental office were just across the street. I taught Carolyn to ride her two-wheel bike on the Mortuary parking lot across the street.
For a week or more I walked with Carolyn to school. At first I walked all the way with her, up B Street four blocks and then turning right for another block. As Carolyn gained confidence, I stopped at the corner, letting her walk the last block to school. A week later I walked a few blocks with her, letting her go the rest of the way alone. Before she turned the corner she looked back to see if I was still in sight. I was. We have always been grateful for Carolyn's teacher that year. She enhanced Carolyn's self-confidence immensely.
We were living in Hayward when our third daughter, Annie, was born in 1954. That meant Carolyn was six years older than Becky and nine years older than Annie. She lived in a different world from that of her younger sisters.
In 1958 when the bishop asked me to move to Chico, a small town at the north end of the Sacramento Valley, Barbara was pregnant again. We had learned a few years before that our RH factors might create problems for Barbara's pregnancy, so I asked the Chico superintendent if they had doctors and a hospital capable of handling it. When we were assured that Barbara would receive competent care, we moved to Chico in June, 1958. Leaving friends at school and in the church was hardest on Carolyn. It was another separation.
Chico 1958-1962
The temperature was 100 degrees as we arrived in Chico. The parsonage, our new home, and the landscaping were attractive. The five-bedroom house was more than enough for our family and others who would live with us during the next four. When the Rev. Dwight and Louise Isles learned that we would be moving to Chico, they asked if it might be possible for their daughter Marty to live with us. Barbara welcomed the idea. Carolyn and Marty had their own rooms, and Becky and Annie shared a large bedroom, all upstairs. We have been friends with Marty and her husband to this day.
We had a wonderful summer in spite of heat. Barbara and the girls could walk to Bidwell Park, just around the corner, where they swam and played in a large pool in Chico Creek. The youth group was large and Carolyn quickly made friends, becoming an integral part of the group. Our youth minister said that Carolyn was always pushing the group to deal with social and justice issues.
It would have been a perfect summer if Barbara had not awakened one morning to discover that the baby was not moving. The gynecologist confirmed the death of the baby and scheduled the inducement of labor for six weeks later. The loss was hard on the family. We all cried except Carolyn. Later when I asked Carolyn about this, she replied, "I did weep in my own room." I'm sure she did.
Carolyn was an achiever. She was on the honor roll through middle school and in high school. She was on the Dean's list throughout her years at U.C. Davis. A middle school teacher gave Carolyn and other students a jolt when she read aloud in the classroom the I.Q. scores of all the students. Fortunately, her counselor was a wise and caring man who assured her and others of their competence.
San Francisco 1962-1966
Carolyn had many girl friends in high school in Chico. She was also popular with the boys who asked her to go to all of the school dances. Understandably, then, Carolyn did not want to move as her senior year was starting in September 1962, when Bishop Tippet asked me to become pastor of Glide Memorial Methodist Church in San Francisco. We arranged with good friends to have Carolyn live with them and complete her senior year in Chico, while Barbara, Becky, Annie and I headed for San Francisco.
A Chico friend and auto dealer had a big, old De Soto which he thought would serve Carolyn's needs. She drove it around Chico and to San Francisco to visit us several times.
The first summer after graduation from Chico High, she worked as an elevator operator in the San Francisco Telephone building. That fall, 1963, we took Carolyn – bikes, bags and all – to U.C. Davis, where she and a Chico friend shared a room in a dorm. She did well in her classes and had an active social life. The next summer she worked on the staff of the White Sulphur Springs Campground near St. Helena in Sonoma County. I suspected that she tested the limits there, because she later told us that she had come close to being sent home.
Sometime during her high school or college years, she said to me, "I don't expect to marry. I think that I'll be a 'bachelor girl.'"
In August 1965, we took Carolyn to the Los Angeles airport where she met with scores of other students to fly to New York and then sail to Europe as a part of the U.C. Abroad program. Carolyn traveled to Bordeaux to study at the university there. She wanted to improve her conversational French so she lived in a private home that year. She hadn't been in France long when I telephoned to tell her that her best friend in Chico had been killed in an auto accident. It had to be a terrible blow. Her studies went well at the University of Bordeaux, and she even had a French boyfriend. In fact, her relationship with Alexandre became so serious that we thought that she might marry and stay in France. We don't know what happened, but instead of marriage she and friends toured Europe, staying in hostels and working before coming home.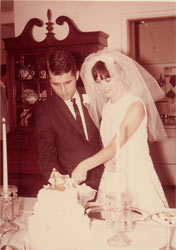 Davis 1966-1972
We moved to Davis in the summer of 1966, a few weeks before Carolyn arrived home from Europe. She lived with us for several weeks before she and some friends found a place to live. She wasn't home a week before she was dating a graduate student who was engaged in research radiation experiments on beagles. Later that year, she met Larry Layton. I remember seeing them standing on the edge of a crowd while some of us accepted draft cards from students resisting the draft. Carolyn and Larry married in the Davis Methodist Church the following summer. Annie played her twelve string guitar, and Becky played her flute. The reception was at our home.
In the weeks before the wedding, Dr. Laurence and Lisa Layton came to our home for dinner. Dr. Layton was engaged in research in Berkeley, and Lisa worked in the university library. Barbara, the girls and I had dinner with the Layton family in their home in the Berkeley Hills. Barbara loved Lisa, and I talked easily with Dr. Layton. During the year following the wedding we were in the Layton home a time or two.
In 1968-69 Larry completed his undergraduate studies and Carolyn was in the teaching credential program. She did her student teaching in Vacaville High School. Her most shocking experience followed the assassination of Dr. Martin Luther King, Jr., when some of her students cheered.
Carolyn was offered a teaching position in the Potter Valley High School, near Ukiah. She would teach French and girls P.E. I taught her all I knew about tennis, which was apparently enough for her to get by. Her job in Potter Valley enabled Larry – who was a Conscientious Objector – to do his alternative service at the State Mental Hospital at Talmadge. They rented a house nearby, and Carolyn drove to Potter Valley each day. They visited the Ukiah Methodist Church, but when the man next to Carolyn said that he did not want to pass the peace, Carolyn and Larry decided that the church was not the place for them.
About that time, they met a number of young adults who were excited about their church and invited Larry and Carolyn to visit. That's all it took. A month or so later, Carolyn wrote us an enthusiastic letter in which she said "Our pastor said this and our pastor said that." I replied that I was more interested in what they thought than what the pastor said. The church, of course, was Peoples Temple, and the pastor was Jim Jones.
When we realized we hadn't heard from Carolyn and Larry for a month or more, we told her we were coming for a visit. She and a Temple member were living in a house on State Route #120 near the Potter Valley exit. Barbara, Becky and Annie and I drove to Carolyn's home, but Larry wasn't there. He was in Reno getting a divorce. A while later, Carolyn said that she wanted to call Jim Jones to come over to meet us. When Jim arrived, Becky and Annie went outside to swing on a rope hanging from a big tree.
As I remember, Carolyn told us that she loved Jim Jones, that his wife Marceline could not satisfy Jim's sexual needs. The first thought that passed through my mind was, "Oh God, another Elmer Gantry." Carolyn continued when Jim interrupted, saying, "I told you that they wouldn't understand." Carolyn was broken-hearted by our response. Jim excused himself. We all hugged Carolyn, said our goodbyes and headed back to Davis.
Carolyn and Jim and one or two of his children visited us several times in Davis. Once Willie, Annie's dog, growled at Jim. He had never growled at anyone else. We also visited Jim and some of the children in Redwood Valley. Once when I was seated in a chair in the Jones' house, their mascot, a chimp named Mr. Muggs, jumped up on my lap and then on my head. Everyone laughed heartily. Carolyn took us on a tour of the residence for the boys and the houses where older women lived and grew some flowers and vegetables.
Berkeley 1972-76
In September 1972, Barbara, Annie and I moved to Berkeley where I became District Superintendent of the East Bay United Methodist Churches. We lived in the Berkeley Hills for a year before we bought a home on Ashby Avenue near the Claremont Hotel.
Becky had moved to Washington, D.C. with her husband Patrick a few years before. Annie had stayed with them the summer before her senior year and volunteered in the Burn Unit in Children's Hospital in Washington, and planned to return after graduation to spend a year with them and to volunteer again at the hospital. Before she left for Washington, though, she went to say goodbye to her sister in Ukiah. When she came home from Carolyn's, she told us that she had decided to join Peoples Temple instead. I thought, "Isn't one child enough?" She pleaded with us to join her. We declined her invitation, and accepted her own decision with pain and tears.
Jim and Carolyn would visit us from time to time. Barbara would invariably ask Jim, "When are you going to divorce Marceline and marry Carolyn?" Jim never answered. Carolyn always explained that such a thing was impossible. Marceline was beloved and played a key role in the Temple.
In August 1974, Carolyn called to tell us that she was pregnant and asked if she could live with us. We agreed, and several days later she moved in, making herself at home in the large back bedroom which had its own bath. I had the impression that she was working on Temple business during her time with us. Barbara was glad to have one of her daughters home – whatever the circumstances – and frequently during that fall, the two of them would go shopping. Jim often came in the months that followed, sometimes spending several days.
Our grandson Jim Jon arrived on January 31, 1975. We all welcomed him into the family. Several weeks later Carolyn moved back to the Temple, which by then had transferred its headquarter to San Francisco.
Three events put a strain on my relationship with Carolyn during that period. Once when I went to my study, I found a note on my desk asking me to perform her wedding, by proxy, to Mike Prokes. I was irritated that she had not come to discuss the matter in person. When I did not sign the certificate immediately, Carolyn became terribly upset. Barbara interceded for Carolyn. I think she said that Carolyn was considering an abortion. I explained to Barbara that I had been waiting for Carolyn to talk with me about the matter. I knew all of the time that I would sign it. I did, and Barbara witnessed it. I did not want Annie involved.
On another occasion, I received a phone call from the editor of Christianity Today, who asked me why I had sent him a letter, on my letterhead, with numerous press clippings about Jim Jones enclosed. I replied that I had no idea what he was talking about and requested that he send me copies of what he had received. When they arrived in the mail. I was furious and asked Carolyn what was going on. She explained that it had been a mistake. I told her that I wanted Jim to write a retraction and mail it to everyone who had received the letter, but Jim told Carolyn that, since they had no record of recipients of the letter, that could not be done. I knew that this was B.S. My conversation with Carolyn came to an end when she said that she was responsible for what had happened. I didn't believe her, but there was nothing more I could do. I wrote my bishop apologizing for the letter and offering to resign as District Superintendent.
This did not end the matter. Later that spring I saw a man in a dark suit walking up the driveway. I had known Lester Kinsolving when he was working for Bishop Pike in San Francisco. I also knew about the bad blood between him and Peoples Temple. Lester had written a series of eight articles about Peoples Temple for the San Francisco Examiner in 1972, but a Temple protest led the newspaper to suspend the series after only four articles. As Lester approached me that day, then, I knew what his visit was about.
He grilled me about the letter and my support of Peoples Temple. I mentioned that other ministers in the Bay Area, including Cecil Williams, a popular preacher at Glide Memorial Methodist Church in San Francisco, had praised Jim Jones. Lester replied, "Cecil is a fake, too." After a conversation that went on too long, I asked Lester to leave.
A few minutes later, I noticed that he had left his briefcase behind. When Carolyn, Annie and the baby came out of the house not long afterwards, I told them that Lester had been there. "You didn't talk to him, did you?" Carolyn asked. I told her that I had. She became terribly upset. I immediately wrote a verbatim account of my conversation with Lester, and put his briefcase in the hall closet.
The next morning I received a call – my memory is that it was from Tim Stoen – asking Barbara and me to come over immediately to the Temple's headquarters on Geary Street in San Francisco. When we arrived, they wanted me to give them Lester's briefcase. I hadn't brought it with me – it was still in the hall closet – and I told them that I refused. I added that I had planned to take it to the United Airline counter at the Oakland airport – the briefcase had a United tag on it – or to the Berkeley police. They asked me not to do the latter. As soon as we got home I went to the United Airlines counter in the company of a minister and turned over the briefcase.
For 29 years afterwards, Lester and – more recently – his son accused me of giving the briefcase to Jim Jones. My answer has always been the same as stated here. Within the last two years, Fielding McGehee of the Jonestown Institute learned from a Temple member who was familiar with the incident that Annie and another member had taken the briefcase from our house while Barbara and I were in San Francisco, copied the contents, and returned it to the hall closet before we got back. My lack of knowledge of this additional information, and Lester's hatred of the Temple, have led him to paint me with the same black brush he used to use on Jim Jones. To date, the more recent revelations have not changed his opinion regarding me or our family.
Reno 1976-1980
Carolyn, Annie, and Kimo migrated with other Temple members to Guyana in 1977. In May 1978, Barbara and I flew to Georgetown and then to Jonestown to visit our daughters and grandson. We stayed in the Temple's Georgetown house at Lamaha Gardens the first night. I heard a lot of talking downstairs. We were told that Debbie Layton had left Jonestown and requested safe haven in the U.S. Embassy. The tension over the departure of such a high-ranking member within the Temple's financial structure permeated our entire visit.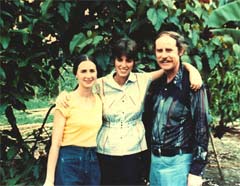 We flew with other Temple members to the Port Kaituma airstrip on a Guyanese military plane. We were in Jonestown four or five days, touring the site with Carolyn and some others. We ate with Jim and the leaders of the community at a table in the pavilion. We stayed in Jim Jones' room in a small house which was separate from most of the cottages and dorms. Carolyn and Jim Jon and, I think, Maria Katsaris and/or Karen Layton – Larry's second wife, from whom he'd separated following her own relationship with Jim – occupied the adjacent room.
Barbara and I were impressed the settlement. I had always been bothered by the members' adulation of Jim Jones, but there was none in Jonestown. I assumed that Jim had prepared the community for our visit by telling the people to cool it on the adulation.
Jim spoke at length at one luncheon. I don't recall the subject, but I do remember that no one disagreed with Jim. I certainly did. When we returned to Reno, I wrote to Carolyn expressing my concern about the lack of any debate about the controversial issue.
We wrote frequently to Annie and Carolyn, and they replied almost as often. We recognized the party line when they gave it, and we were concerned that the conspiracy writer who visited them in late summer 1978 was fanning the flames of their paranoia. Still, we couldn't understand why they were so afraid of Congressman Ryan's visit.
On November 19, while Barbara and I were on a church retreat, my sister called us to tell us that Congressman Ryan had been killed. When I heard the news that Annie and Jim Jones were dead, I knew that Carolyn and Jim Jon were also dead.
* * * * *
One of Carolyn's secondary school teachers wrote us later saying that Carolyn's favorite poem was William Ernest Henley's Invictus. Its words speak to me now as it did then.
Out of the night that covers me,
Black as the Pit from pole to pole,
I thank whatever gods may be
For my unconquerable soul.

In the fell clutch of circumstance
I have not winced nor cried aloud.
Under the bludgeoning of chance
My head is bloody, but unbowed.

Beyond this place of wrath and tears
Looms but the Horror of the shade,
And yet the menace of the years
Find, and shall find, me unafraid.

It matters not how strait the gate,
How charged with punishments the scroll,
I am the master of my fate;
I am the captain of my soul.
Originally posted on July 25th, 2013.
Last modified on December 31st, 2020.