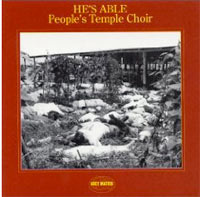 The postscript to the He's Able story comes in 1993, when an anonymous British bootleg cartel called Grey Matter "re-released" the record on CD. Grey Matter releases were geared towards devotees of the early industrial scene, the sort of post-punk avant-garde in which stygian spoken-word recordings, sound collages, and macabre disaster memorabilia have a lot of cachet. Their catalog, for example, included musical offerings from Charles Manson and recordings of pagan rituals by British "witch king" Alex Sanders.
Just who operated the underground label remains a mystery. I first encountered the Grey Matter release early in my research for my essay, "Songs (Largely) in the Key of Life," and picked up a copy on eBay for twenty bucks. You can occasionally find it, though, auctioned for hundreds of dollars by vendors citing the CD's rarity. A number of online listings for the Grey Matter He's Able claim that only 250 copies of the disc were pressed, but I've yet to find a vendor who can document this claim. In fact, it's quite difficult to find anything more than Internet rumors concerning Grey Matter or the He's Able re-release.
The disc itself doesn't offer much in the way of clues. It has a maroon cover with a black-and-white photograph of corpses piled up outside the Jonestown pavilion. On the reverse is a picture of a large metal vat, and a few dead bodies strewn nearby. The images are obviously disturbing, but in the context, they don't immediately seem more graphic than your average, skull-laden death-metal album art. On the inside cover is a fairly tasteless illustration, a spoof of a Kool-Aid ad with Jones' face superimposed over a pitcher of punch.
The image is credited to one Monte Cazazza, a San Francisco–based visual and performance artist and a pioneer of the early industrial music scene. Cazazza is alive and working, but he's somewhat famously reclusive. Attempts to contact him via colleagues in the underground art scene led to no response. In March of 2007, however, I did get in touch with a British performance artist named Genesis Bryer P-Orridge, who worked with Cazazza in the 1970s and 1980s in the music groups Throbbing Gristle and Psychic TV. Both artists were involved with the founding of the British record label Industrial Records, and I wondered whether that organization may have had some connection to Grey Matter.
In an email, P-Orridge convincingly denied any knowledge about Grey Matter, but did inform me that Cazazza had broken into the Peoples Temple's Geary Street church shortly after the Jonestown tragedy, shooting photos and absconding with what P-Orridge referred to as "memorabilia." Cazazza, said P-Orridge, somehow acquired a copy of what has since become known as "the Death Tape," and the two artists collaborated with a third industrial musician named Jordi Vallis in 1984, to release that recording as an LP under the banner of P-Orridge's label, Temple Records. The question remains whether Cazazza had any direct relationship with Grey Matter, or whether that outfit simply appropriated his art.
In November of 2008, I contacted the British author Stewart Home, who published a few satirical essays in the late 1990s about the mysterious identity of the Grey Matter bootleggers. A popular writer and subculture guru, Home had contributed liner notes to an early Grey Matter release and had further contact with the outfit while researching a book on the UK bootlegging industry in the early 1990s. Home wasn't naming names, but he told me that the Grey Matter bootleggers were just a couple of shrewd and anonymous amateur businessmen active in the UK's underground record market. "It was a furtive scene with meetings in motorway service stops, where dealers would exchange box loads of records," Home explained. "The distribution model was very effective, since it would quickly become difficult to discern who was responsible for what material." By Home's estimation, Grey Matter was active for two or three years, and it pressed roughly 500 to 1000 copies of any given title.
The track list on the Grey Matter release is identical to the vinyl edition, except for the addition of a thirteenth track. As a block of accompanying text explains, "Tracks 1–12 are taken from the long out-of-print LP on Brotherhood Records of San Francisco. Track 13 was recorded on a TEAC tape recorder beneath Jones' 'throne' on November 17, 1978." Grey Matter is off a day on the date, but the rest of the description is accurate.
What fascinates me about the Grey Matter release, and what I discuss in my essay, is the manner in which it subverts in a single stroke the quality of insulation that attracted me to He's Able in the first place. With the addition of the "Death Tape" as a thirteenth track, the bootlegged CD takes everything worth admiring about He's Able and turns it on its head, smashing through the barrier of innocence to let in time, irony, and grief.
Originally posted on July 25th, 2013.
Last modified on January 31st, 2014.