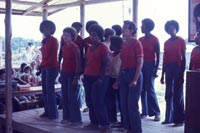 I have always loved all kinds of music, from show tunes, to chorale, to pop. With my first soprano voice, I was in many musicals in high school and have always played a variety of musical instruments. Soon after I moved into Peoples Temple, I either sang with the choir or watched them at every opportunity.
One of my dearest memories of our services was the choir. It became the heart of the meeting and set the tone for the entire service and the introduction to the dynamic of Peoples Temple. Not only did we have amazing soloists, we had a wonderful pianist, choir-leader, and choir. Over the years, many outstanding musicians became Temple members and brought their soulful music. Many of us would rush into the meetings so that we could hear all of the choir performances, or sing with the choir. I got chills every time Diana Wilkinson sang, "Hold on brother." Many of the singers touched my heart when they sang. It went way beyond just listening to a popular song.
Jack Arnold was an outstanding bandleader. He motivated us and kept the enthusiasm and skill-level very high. In the early 1970s, he arranged for the choir to go and make a record of our music. Some of the music was original and some of the scores were modified so that our very best artists were performing on the record.
We went into the recording studio over several weekends. Our group numbered about fifty each time so we would be available if there were any chance to tape a bit here and there. We'd stay for at least six hours in the evening and into the night, after a long day. The studio was set up for small bands to go for short periods of time, so we overflowed all the furniture and onto every floor. As one person or group was being recorded, the rest of us would relax anywhere we could. The whole mood was high-energy and upbeat, until we started getting tired. Then we would crash on the floor. When our group was called upon to perform, we'd awaken and splash cold water on our faces. It was a skill we all picked up in Peoples Temple, to take care of the business at hand. We looked forward to this time of hanging out and just laughing and talking. Still, we tried to be professional throughout, because we wanted a record that would reflect the talent we saw in every service. We were enormously proud because the sound was heartfelt and authentic Temple talent. The end result was a record that came close to showing us at our best. Whatever you do on a record can only approximate a live concert or a live service, but making the record was fun.
I have a CD of He's Able, but I cannot listen to it. I just hold on to it. Even when I used to listen to the person singing in our services, I became teary-eyed. Diana Wilkinson, Marthea Hicks, Shirley Hicks, Melvin Johnson, Norman Ijames, Joyce Parks, Shirley Smith and so many others just sang with such clarity. I miss them all over when I hear some of the songs. I even feel sad that some of the most exquisite songs didn't make the record. It is a treasure that we put together and that we had fun with. It was one of those unique experiences in Peoples Temple, one of so very many.
(Laura Johnston Kohl, who had lived in Jonestown but was working in Georgetown on 18 November, died on 19 November 2019 after a long battle with cancer. She was 72. Her writings for this website appear here.)
Originally posted on July 25th, 2013.
Last modified on November 20th, 2019.