I worked with Bob Stroud three times: at KLLI 95.9 FM in Texarkana, Texas; at 94.5 KWKH in Shreveport, Louisiana; and again at Cox Cable in Texarkana. I considered him one of my greatest friends. He helped me get into a bigger market in Texarkana.
I started in radio when I was 13 living with my folks in Nashville, Arkansas. By the time I graduated from high school, I was looking to get into a larger market. I had started working part-time at KLLI when I met Bob. He and I hit it off automatically. We DJ'd proms and class reunions together on the weekend. We had so much fun! He then took a job at KWKH in Shreveport and immediately helped me get a job there. Each time he climbed the ladder, it seemed like he would try to pull me along.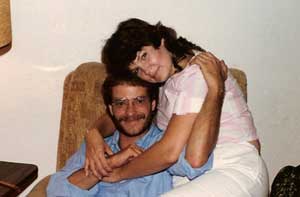 I lived with him and his wife Beverly for a little while in Shreveport until I got married to my wife, Becky, in August of 1989. That's where we separated paths. I went on to several more radio stations in Oklahoma; in Monroe, Louisiana; in Waco, Texas; and then – in 1995 – in Dallas. That's when Bob and I caught up again. Beverly was working at GTE in Dallas and he was working at Cox Cable Advertising.
Bob knew I was tired of radio and looking for something different. The next thing I knew, he was pulling me back to Texarkana with a job offer to get into cable TV advertising as an Engineer. I stayed there until August of '99. He had since been fired for failing his drug test – I was told – when CableONE took over.
Beverly mentioned once about Bob's connection to Jonestown, but I didn't push about it. I didn't even ask about the scar on his leg, the result of a serious accident in Jonestown in 1978.
I never saw Bob again after he left CableONE, but I've missed him every day since. He was my one true friend. It didn't matter where we left off, we would just pick right up again when we saw each other.
Because of Bob, I am still in the same cable TV industry today. Thirteen years later, I am still married to the same woman, we have three daughters, and I am living in Memphis, Tennessee. Bob saw something in me – I don't know what it was – and he was always willing to help me. That's what I loved about him.
(Bobby Stroud survived the deaths in Jonestown by flying to Georgetown for a medical appointment a few days earlier. He died in February 2005 of natural causes. Other remembrances of Bobby appear here.)
Originally posted on July 25th, 2013.
Last modified on January 14th, 2014.