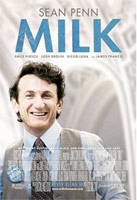 (Will Savive's other article in the jonestown report is Jim Jones: Mystery Man, Mystery Trip. He may be reached at willsavive@live.com.)
I was excited to see the movie Milk when I heard about it. Not only because it starred Sean Penn, one of my favorite actors, not only because Harvey Milk was a pivotal figure in the civil rights movement for gays, but I wanted to see how they would handle Milk's connection to Jim Jones. Unfortunately, the movie made no mention of Jones or Jonestown.
The fact is that Harvey Milk and San Francisco Mayor, George Moscone, both had an affiliation with Peoples Temple. Moreover, it is widely known that Jim Jones and his followers were instrumental getting Moscone elected as Mayor of San Francisco. In return, the Mayor appointed Jones to the San Francisco Housing Authority.
Following the horror of the deaths in Jonestown emerged rumors of a Peoples Temple hit squad which was poised to retaliate against Jones' enemies. The FBI investigated reports that Jones paid some $10 million to this hit squad – known as "Angels" – to kill certain people in case of his death. Specifically in response to this rumor, two armed guards were placed on duty at the reception area of the Mayor's office.
Even though the rumors eventually proved to be unfounded, they had profound implications for some former Temple members. Former associate pastor of Peoples Temple church in Los Angeles, David Wise, told me that he went into hiding for 25 years out of fear that he was on Jones' alleged hit list. In addition, several other Temple members went underground or changed their names over fears of reprisal from Jones' loyalists or – in some cases – from Temple adversaries.
Regardless, on November 27, 1978, just nine days after Jonestown, Mayor Moscone and City Supervisor Harvey Milk were murdered in their offices by former City Supervisor Dan White, who had avoided metal detectors by entering City Hall through the basement. Standing outside the building after the murders, Heather Cogswell reflected on the confusion when she said, "This is terrible what's happening around us. First it's the Peoples Temple crisis and then this." Her friend Holly added, "I feel frightened, as if something awful is going on all around me. There's no sense, there's mesmerization, irrationality, sickness, craziness, and it's all at random."
Dan White's attorney Doug Schmidt tried to link Jonestown to the murders during opening arguments, although the trial is more memorable for a defense psychiatrist's suggestion of what came to be known as the Twinkie Defense. According to Martin Blinder, one of five therapists the defense called to the stand, it was White's consumption of junk food that resulted in his depression (although it was actually HoHos and Ding Dongs that White ate). White's main defense was "diminished capacity" that amounted to "a major mental illness," a strategy which ultimately succeeded.
On May 21, 1979, Dan White was convicted of "manslaughter by diminished capacity," the lightest sentence he could have been given for his crimes. Later that night crowds of angry people gathered around San Francisco's City Hall, finally erupting into the violence of the aptly named White Night Riots. White was paroled in 1984, and after a brief stay in Ireland, he returned to San Francisco. A little more than a year later, White committed suicide at his home, connecting a garden hose to the exhaust pipe of his car.
But there would be several other unexplained murders connected with Peoples Temple in the years following Jonestown and the Milk/Moscone shootings.
• In 1980, former Temple members and high-profile defectors Elmer and Deanna Mertle, together with their 15-year-old daughter Daphene, were found shot execution style in their Berkeley home. The Mertles had founded the Concerned Relatives organization that was responsible for getting Congressman Ryan to investigate Jonestown. The crime was never solved.

• Concerned Relatives – and likely the Mertles themselves – had hired a private detective, Joe Mazor, to investigate Jones. Mazor, a mysterious figure in his own right, later joined Jones' camp insofar as he provided the Temple's leader with information about his antagonists. Mazor was shot and killed – apparently during a domestic dispute with his wife – in 1985.

• In October 1983, Laurence Mann, Guyana's ambassador to the United States, whose relationship with Temple member Paula Adams began two years before Jonestown, shot and killed her and their young child in their suburban Washington apartment before turning the gun on himself.

• In February 1983, Tyrone Mitchell, whose parents, grandmother, brother and four sisters died in Jonestown, shot up an LA schoolyard, killing one child and injuring 11, before committing suicide.
The closer we look at the story of Jonestown, the more bizarre it becomes. Several questions still remain, and unfortunately there have been a shortage of answers. Although the metaphoric smoking gun in this case may be lying somewhere in the relentless Guyanese jungle, circumstantial evidence and "mesmerization" remains.
References:
Coleman, L. (2004).
The Copycat Effect How the Media and Popular Culture Trigger the Mayhem in Tomorrow's Headlines
. New York: Paraview Pocket Books.
Crewdson, J. M. (1978, November 28). Harvey Milk, Led Coast Homosexual-Rights Fight. New York Times, p. B-12.
Lindsey, R. (1985, October 22). Dan White, Killer of San Francisco Mayor, A Suicide. New York Times.
Pogash, C. (2003, November 23). Myth of the 'Twinkie defense' The verdict in the Dan White case wasn't based on his ingestion of junk food. San Francisco Chronicle. p. D-1.
Turner, W. (1978, November 28). San Francisco Mayor is Slain; City Supervisor also Killed; Ex-official Gives up to Police. New York Times, p. B-12.
Originally posted on July 25th, 2013.
Last modified on May 13th, 2020.