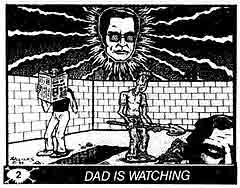 In 1988 a group of fringe artists were commissioned to design a set of 39 small art cards depicting scenes from Jonestown. With a limited run of 2000 sets, the "Death Cult Memorial Cards" were supposedly expected to become a collector's item. Judging from the price of the cards, however, they had not exactly become as popular as the creative forces behind them had hoped for.
I recently acquired one of these sets – no. 1964 – as part of my quest to understand not just Peoples Temple itself, but also how Peoples Temple and Jonestown have re-entered the American society as part of a popular canon on the events there, and how that influences our ability to relate to those events (Rebecca Moore. Understanding Jonestown and Peoples Temple. Westport, CT: Praeger, 2009, p.120).
The artwork on the cards is typically "fringe": One side of the cards is decorated with black and white drawings – most of them in an exaggerated and grotesque style – while the other side has white and purple prints which form a larger picture when all of the cards are put together.
Apart from repugnance of turning 18 November into a collector's item and the insensitivity to the people who died in Jonestown, the set of cards is interesting because of the way it retells the story of Peoples Temple and Jonestown. The captions on the illustrations follow very much the popular depiction of Jonestown as a concentration camp, with cruel punishments, hard labour and incessant monitoring. Some of the artists have evidently studied the media reports closely, as a few of the drawings are near copies of photos of the aftermath, including those published by Time Magazine in December 1978.
In that way the cards say a lot more about the established interpretation of Peoples Temple and Jonestown, than about Jonestown itself, i.e. Jonestown as an "icon" and not an actual historical event. I doubt that we will ever see the same sort of cards depicting scenes from other scenes of carnage, like the Holocaust, Hiroshima, the killing fields of Cambodia, or 9/11.
And of course, the unintentional irony of the cards is that anti-establishment artists have followed the establishment's interpretation of the anti-establishment organization of Peoples Temple.
The collection of cards has been donated to the California Historical Society in San Francisco and is available for researchers.
(Rikke Wettendorff is a regular contributor to the jonestown report. Her complete collection of articles on this site is here. She may be reached at Rikke@Wettendorff.Net.)
Originally posted on July 25th, 2013.
Last modified on January 3rd, 2014.