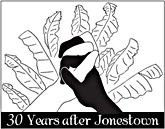 When anyone asks about my father, I just tell them he died in Jonestown. Some seemed shocked, others concerned or sorry. I'd rather people be shocked, concerned and sorry that so many children were lost at the hands of parents and adults.
We didn't find out right away that Don Bower had died in Jonestown, only that his body was being brought back to America. I think it was my aunt who took care of having him buried. I always wondered why he would follow anyone all the way to killing himself at the word of just a man. The last few times I saw him in Marin County, he seemed to be almost shy. Something his children and grand children are not even close to.
So surviving does not seem to be an issue. In life we don't follow real well. We prefer to do things our way, and if we don't like the show, we get up and leave.
One thing I've done in the intervening years is to try and learn as much as possible about what my father did at Jonestown. Who did he know? What was his job? Was he really married to the lady he was with at Jonestown? I have a whole other family I'm related to by marriage – or not – who also died, and I have not a clue as to who any of them are or if any of them survived and why they're not all buried together. I know for a fact my aunt – my father's sister – didn't know he had a wife or other kids in Jonestown. It was just something else tragic we learned along the way.
News of Waco – watching it live on CNN – just pretty much pissed me off. Children died at the hands of parents and adults, and I don't recall seeing children running from the burning buildings. Just adults. If the government might have been a little slow to respond at Jonestown, it may have been a little too fast at Waco. On the other hand, people at Waco were well armed and had the locals out gunned. I just hope the next time one of these groups decides it wants to take on a state or government, it at least sends the children out first.
As far as surviving… harder or easier, we're surviving period. Nobody's prying us off this rock until it's time, and even then we're not going willing. Getting information through the years makes things easier. It does bother me, though, not being able to ask my father questions about things I know he would know about, such as what kind of meds can I get at the farm supply to give to the sick feral kitten that the mother cat kicked out of the litter so I could keep it alive, and how much should I give it? It's a year later – the kitten's a cat now – so I figured it out on my own, but he would have had the answer right off.
The guy I was 30 years ago wouldn't recognize the man I am now. If I told him, he was going to have four grown kids and three grandkids, and spend every spare minute building classic air cooled Volkswagens – and at this moment I was thinking about everyone's losses at Jonestown he'd have said, fat chance.
But here's what I learned. Flashy suits and giant churches don't mean the message is from God. People know right from wrong, but you have to listen to the word from whatever God you like, not the person telling you about God. And unless Dr. Ferdinand Piech comes up with a new religion based on Volkswagen Porsche and being Catholic, I'm not gonna be switching in the near future.
(Greg Bower can be reached at twogoodbeingbad@aol.com.)
Originally posted on July 25th, 2013.
Last modified on December 15th, 2020.