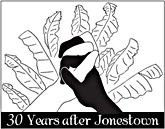 November 18, 2008 will mark the thirtieth anniversary of an event that shocked the entire world. That happened in the remote jungles of a place called Jonestown, in the South American country of Guyana where some 909 men, women, and children lost their lives, including my first wife Rhonda and our three-year-old son Hue Ishi Fortson.
I grew up believing in God, but not really knowing him as I do now. Back in the late 60's, I was searching for God but did not know how to tap into him. Nor did I know I had a call upon my life. I had not realized the importance of lining my life up with the word of God. I was still doing my thing because I thought that is what I was supposed to do.
However I had joined the Episcopal Church in Los Angeles and became very active within the youth group and even served as an Acolyte (Altar Boy) just about every Sunday morning. I was doing the works but still didn't know Him as I should. There would be times when I would be out late that Saturday night and sometimes I would come to church still on a high from drinking and having what I thought was a good time.
Because of the lack of knowledge of the Word of God, I had found another church that looked good on the outside in that there was Black and White, Native American and other races of people all worshipping and working together. The name of this church was Peoples Temple, a place where we were all as one. The senior Pastor was the infamous Rev. Jim Jones, and because of me not knowing who I was, or what my purpose and calling on my life, I was deceived by the man Jim Jones. Many if not all of the so-called sermons that he preached were about how we, as poor Black and White people, could come together and create a brand new world with peace and freedom for all. In hindsight, I remember that he did not include the Lord Jesus Christ. He told us that Jesus came to bring change and that makes him a revolutionary. He quoted very little scripture from the Bible, and when he did, it was twisted to fit around the point that he was trying to get across to us. I had many doubts as to the real truth, but too afraid to speak up and ask questions that would have opened up my eyes.
I had married my first wife, Rhonda Denise Wright, and we were both very young and thought we knew it all, but we did not have Jesus Christ in our lives as we should have. I can remember the many work projects that I was to become a part of, and the more work one did, the greater the promotion that came along with it. I had become one of the counselors, a bus driver, an Apostolic Guardian (Security for Jim and Marceline Jones), a truck driver, a minister for jailhouse visits, and a paralegal researching information for the lawyers at the county courthouse.
Jim Jones came up with the idea that he had to find a place where we as a people could go away for six months to a year and relax without the pressures of life here in the United States. Almost like a Club Med… However he had to keep it in the area of the church. He said that we needed to have a "Promise Land." We all became excited about the idea because it was new, and we all felt like we would be doing something that would affect the entire world. Many of the people committed their homes and business to help bring in monies for this new project. By now all of my fears of being wrong had gone away, because of this new project.
Jim Jones had told us that there was a quiet place in the heart of a third world country in South America where we could live and rear our children in our beliefs of true harmony and love. Guyana had a Black Prime Minister, a Chinese President, and a cabinet made up of East Indians, Black, and White. Jim Jones told us that the Guyanese government would allow us live just as we want. We would be there to help them grow food and feed their nation.
At that time period of my life I did not know who I was, or how to express myself as I should as a Man, Husband, and Father. You see, I grew up without a father figure in my life. In October 1977 the plan was laid that my wife Rhonda and our son Hue Ishi would go down to the project and live and work until I got there. I had been flown down to Jonestown in March 1978 to stand before the town of Jonestown because of an affair I had in the Bay Area. After my affair was dealt with, I became the number one person to be put to work in the fields and at our Georgetown headquarters at Lamaha Gardens. In early September 1978, out of the clear blue, Jim Jones came on the loudspeaker and announced that he was sending three persons back to the United States. But he had a stipulation, that if any one of these persons had been talking negative about this leader or this cause, then they were to report to Jim Jones directly and that person would not be going! I had not even discussed my few fears and disappointments about Jonestown with my wife for fear of being turned in.
Marceline was one of the three. I was to go as Personal Body Guard and to purchase supplies for the new furniture-making project that they were starting in Jonestown. The third person was Jones' girlfriend, who was going back to see her parents for what turned out to be the last time. Jim Jones came to me by myself and told me that I was one of the few young Black men that he could trust. He said he knew that I would miss my wife and three-year-old son, but that I would be gone only two months. We flew out of Guyana September 17, 1978.
In early November 1978, Marceline came to me in the San Francisco Temple and told me that "they" had asked her to come back to Jonestown, and were asking me – as if I had a choice in the matter – to stay for one more month, and then someone would be sent up to replace me. Then on November 18, 1978, all hell broke loose in Jonestown and the tragedy happened.
* * *
It seems like only yesterday I was trying to put my life back together after learning the news that hundreds of men, women, and children had been found dead in Jonestown. Jim Jones had always talked about death, but I thought it was more for show than anything else. After the news hit me, I cried until I could not cry any more. At one point I had tried to formulate ways that I could get rid of myself, but did not have the strength to carry it out. Every day after that I would wake up with the thought in my mind but I knew I had to go on with my life, even though I did not have anyone in my life to go home to. I was never a lazy person, so I did go out and find jobs to work that would keep my mind off of what had happened November 18, 1978. Many times at night a lonely spirit would come upon me and I would weep all night, and the next day I would get up and go to work all over again. I could not figure out why I had been so stupid as to let someone else control my very life, but I did and I had to pay for what I did and did not do. My wife and son were gone, and I was still living.
At one point during my time of healing I took myself to the Hawkins Mental Health center located in south central Los Angeles and asked if I could speak with some because I thought I had a problem. I remember sitting before a young Black man pouring out my heart and after about an hour he sat back in his chair and told me that I wasn't crazy, I had just made some wrong choices in my life and he suggested that I do go back to some church and start there.
I started a quest to find me in churches. Unfortunately I did not have the wisdom at that time to not share my past, because as soon as they found that out, it was like I had AIDS written all over my body. I felt like the Elephant man. My mother was always there for me to encourage and protect me (or at least she thought she was). I had gotten past those people that had chosen to judge me for my history and I learned how to talk about my life. I filled all the hours of my days with work and church, but I did not have a companion who could accept me for just me.
In 1981, I met this lady named Rita. She had already had two girls from a bad marriage, but seemed to be a nice person. We got involved with one another and after all these years I let her talk me into living together without being married. I was somewhat old-fashioned in that area, but I was willing to give it a try. After two months my insides were not comfortable, but I was trying to make her happy and not myself. We had made plans to be married and all the while we were arguing over anything and everything. I did not know that she had a lot of baggage from past relationships and I was challenged on every hand, but I still went forth with the marriage.
I remember I had a job of driving the city bus (RTD), and one Thursday afternoon a lady bus driver named Francis Lakey invited my wife and me to her church that night in Inglewood, California. Rita agreed, and we went. At the very end of the service, the pastor, Elder Charles Lollis, asked my wife and me if he could pray for us? We both said ok and came up to the altar. After he prayed for her, he laid his hands on my head and began to pray, and all of a sudden I felt all of the bottled-up hurt, anger just come up and out of me just as someone had opened a valve in my body. I can remember in my mind thanking God for the pressure being gone, and then I began to weep, and the next thing I knew I was speaking in a new language that I had never done before. On the way home, Rita told me that if I wanted to go back to that church, it was all right, but she was not going to take herself and her two girls to that church because it reminded her of Jim Jones and Peoples Temple. It was like a knife had been stuck into my heart. We did things separately from that day on, and after six months, we parted ways.
I was yet still a babe in Christ, but I knew I still had to love people and go in spite of how they perceive me. In 1986, I met a lady named Linda Denise Montgomery. She had never been married and did not have any children and, as God would have it, we found out that we were made for one another. On November 29, 1986, we married and were blessed with three boys and three girls. And I came to understand that I had a Ministry that was inside of me all the time. And that is a ministry of Healing and Deliverance of God's people from their bondages. And for the last 18 years I have been ministering to God's people on how they have the power to choose God or not and to follow God and not man. I am grateful that I am still alive and my past experiences have made me a more loving and caring man towards myself, my family and others as I go through life. Hindsight is better than fore sight and if I could change things from the past I would of chosen not to have gone down that road. But I can say through it all God brought me through!
(Hue Fortson was the Associate Pastor of Peoples Temple in Los Angeles at the time of the deaths in Guyana. He may be reached at afather88@gmail.com. His complete collection of writings for the jonestown report may be found here.)
Originally posted on July 25th, 2013.
Last modified on December 30th, 2020.