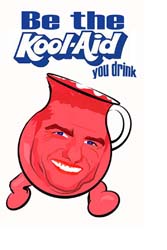 The deaths in Jonestown gave birth to a expression – "drinking the Kool-Aid" – which has become so pervasive in American culture, and so embedded as an idiom, that most people who use it have either forgotten or are unaware of its origin. But there are other words which have assumed a new context – or which have adopted Jonestown as an illustration – since November 18, 1978. The following articles consider the use of these words and expressions in the last 30 years.
Originally posted on July 25th, 2013.
Last modified on February 19th, 2014.