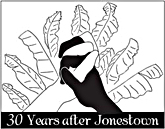 The project titled Slavery of Faith began in the mid 1990's during a time when my life was by no means stable enough to attempt the task of writing. Sitting at the kitchen table, taking a shot of vodka, I made the attempt until I saw the sky turn, as it does when dawn in on the horizon. Proud of myself for writing approximately 44 pages, I stopped. Was it ever completed? Or was it just lost?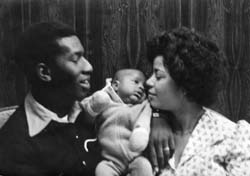 The next journey began in 2001, when my God-driven spirit led me again to be still and do the work. Following my spirit, I put fingers to keyboard and began a journey of discovery. It took about six years to complete, or what I thought was complete. It followed my childhood, my adolescence, the move to Redwood Valley and finally Jonestown. The last page tells the reader – tells me – one journey was over and another was yet to begin. Those words would resonate in my spirit and mind as I considered the story complete. Not wanting to relive the thirty years, I put the other journey on hold.
From 1997 until 2007, I was in my third marriage and raising two additional beautiful children, Monique Inez and Demetrius. I also – finally – became a grandmother. Jakari had continued the bloodline of his father, Joe Wilson. My then-husband and I purchased three houses in ten years, I finally found a job in which I stayed for eight years (a miracle in itself, as I had become a two- to three-year employee), and obtained my real estate license. I was able to pay for my daughter's college education in New York City, and be an active participant in my son's school years. Little League, high school baseball and football, chairman of the high school Booster Club fundraising committee. Running the basketball snack bar and other events, I felt life was very good. The only thing missing was a partner who could encourage me to reach the heights – the spiritual heights, not the materialistic portion – I needed to reach. My ex-husband and I were just unequally yoked. So when my son graduated from high school, I left my husband with a half-million-dollar home filled with beautiful furniture. Although I actually loved this house, never had I allowed material things to dictate my life or define me or my happiness. What I loved more was the fact that my life was on the way out. I had reached the wonderful age of 50, and I saw nothing left for me that could fulfill what I was missing. In order for me to begin the journey on which my very existence depended, I had to make a tough decision to become uncomfortable and a little unstable to reach a level required of me. He filed for divorce.
A friend helped me articulate what I needed more than anything else: "You have been taking care of someone for 32 years; it is your time now." Becoming selfish in that way was a challenge and not easily accepted. I decided to return to Atlanta. Leaving my children, from whom I had never been separated (except for Monique while she went to college out of state), I felt Georgia calling me again. Having lived in Atlanta from 1990 through 1997, and putting me in contact with people from whom I learned another type of strength, the place had both good and bad memories. Remembering what I missed during my years in California – the aroma that flowed from the red dirt of Georgia after a rain, the battleground of my ancestors who connected my soul to the Georgia dirt – the move put in motion a journey of faith and self-discovery that would literally change my life. Once I arrived in Atlanta, everything flowed in divine order.
One night in September 2007 I had a nightmare. I found myself in a twin bed in a very old house. Dark spirits surrounded me, coming closer to me and then pulling back, as if mocking my faith, or at least trying to test it. Fear enveloped me and I tried to scream, but I had no voice. The spirits mocking me became violent, and they were knocking my teeth out, one at a time. As my mouth filled with blood, I yelled quietly within me, "Satan, you will not have me." As more blood came forth – as I almost choked on it – still no words could escape my mouth. With blood everywhere I pulled myself to my knees in the bed and prayed to God internally, knowing that I could move this evil away from me, with sheer spiritual warfare. All of a sudden I heard little footsteps running down the hallway.
Finally, I awoke in a sweat and scared. Reaching for the phone next to my bed, I called a friend who worked the graveyard shift. As I told him the dream, he instructed me to, "Turn the radio to a classical station, it will relax you." As he stayed on the phone with me, I turned the radio on. The voice I heard was Adama. "Hey, Adama is on" I spoke. "On a Sunday night?" he responded. She had show on public radio titled "The Inner Circle" on WRFG, but her normal broadcast hours were midnight to 3:00 a.m. on Thursdays. For those in tune with the supernatural, 3:00 a.m. is the twilight hour, you are either at your most vulnerable or powerful state, depending upon your spiritual strength. "Well, she will calm you down," he said. As I hung up the phone Adama began to speak about the quickening, the transitional time we are now in and a spiritual battle. Still speaking to me, she began pulling cards from the deck. "I keep pulling spades" she said. "This represents death, which is interpreted as change." She continued. Her revelation was that I had left something and was beginning anew. My life force had reached a powerful level. It was time to make the necessary changes to bring forth all that is good and to ensure my journey would be completed. I had to do the work she alluded to.
I met Adama for the first time the following Thursday. The person who presented herself at my door was petite and short in stature, with short hair, bangles on her wrists and a bundle of energy. She sat with me for four hours on the floor of my apartment, and that began my life-changing journey. She provided me with a destiny chart revealing events to come in the next two years, CD's to listen to, and then a lifestyle change for eating.
The first CD I listened to was powerful. After two weeks of mentally preparing for the change, I began the lifestyle eating routine. Juiced greens, apples, fruit, cutting out the sugar, the Equal, processed foods, meat, chicken, turkey and my beloved fish. Performing my affirmations daily, listening and only engaging in conversations that would be food for the soul, I traveled underground again. The next month or two resulted in weight loss and a spiritual awakening.
In the wee hours of November 18, 2007, I awoke from a deep dream and began to complete the book. My highly intuitive and intelligent daughter had said to me in 2006, "Mom, tell the whole story, tell what happened to you after your return." So a couple of months later, I prayed over it and it was revealed that the rest of the story must be told. As I sat down to write, re-living the first two months sent my spirit whirling. It was so painful, I felt like checking myself into a hospital. However, what came out of it was more self-work to be done. "I should be crazy," I thought. For my return to the United States was filled with deceit, mistrust, confusion, and bad decisions. There is no way, I thought, that I could share the nightmares and events that took place after my return. So I quit writing, for self-preservation. I needed more time.
With my daughter's words echoing in my head, and without a computer, I returned to the old way; putting pen to pad beginning again the painful journey into my life thirty years after Jonestown. Writing endlessly, sometimes into the wee hours of the morning, sequestering myself in order to do the work, speaking only to my children, my spiritual warrior, and a very special friend. Going to work every day and feeling very lonely, I continued. Praying to God to keep me strong, and make me write, the days passed one after the other. Some days I felt depressed and wanted to quit, but still I pressed on. The writing opened up painful memories, dragged skeletons from my closet, revealed secrets I had buried deep in my self-conscious, feeling ashamed at times, experiencing joy, embarrassment, confusion, and all the experiences that came along with growth. God has opened so many doors for you, I thought. I had walked past many, stating rebelliously, "Nope, not ready." No, I don't want the responsibility." "No, I don't want to do the work." Finally, after all the writing, I realized that God will be by our side no matter what, if we just believe. My spiritual warrior, Queen Belquis from New York, called every morning providing me with words of encouragement and stressing the fact that this had to be done. There were times when I would call her, sobbing, "I can't do this, it hurts too much, it's too hard" – survivor's guilt rearing its ugly head – yet understanding the mission, she would firmly tell me in her loving way, "You have no choice. Your ancestors are depending on you." Finally, what seemed like months, one day joining into another, was finally completed in one. Exhausted, turning page after page, I felt whole.
On March 31, 2008, I took my income tax return and paid for the self-publishing packet. You have a year to submit your manuscript. My deadline was to submit the manuscript by April 6, my daughter's birthday. I missed that deadline, and on April 25, 2008 I was laid off from my job. Already taking a $15,000 year cut in pay, I found myself working for less than $13.00 an hour. God put me at the VA Medical Center, a place of pain and a place of healing. Money was very tight, but I needed a laptop. A friend turned me on to an acquaintance who sold refurbished laptops for $375. One day I called and said, "I just got laid off but I need a laptop." "$275, and it is yours." God working again. "Ask and you shall receive."
The next two weeks, I transcribed my handwritten work. In June, I submitted the manuscript.
Coming to terms with my life now and then, missing my family every day – not just the nuclear family but those I grew up with – the camaraderie, the vision, the hopes, the dreams of building a better world, I also understand that it just takes each of us to take a step. It can be done; and a difference can be made one day at a time, as long as we never forget our vision, dreams and sacrifices.
For those of us who were brought to the church as children by our parents, we had no choice but to adapt to our new lifestyles. We were fully indoctrinated into the principles of Socialism. My sister's drug addiction was what brought my mother to the church. However, I wonder still what was missing in my mother's life that once Jim Jones began to speak of extramarital affairs, she did not take our hands and run like hell. But she didn't, she stayed and eventually moved us to Ukiah, the heart of the church. It was there that we were taught servitude, but also alienation. Jim Jones turned Peoples Temple into his Temple. And what began as a beautiful vision, changed to something unbelievably insane.
As I look back on Jonestown, I realize it was doomed from the beginning. My dream to go to medical school was quashed. Corlis Conley/Boutte and I were told we would be sent to college in Cuba. She wanted to be an Ophthalmologist, me an OB/GYN. Corliss and I spent all of our free time in the medical office, reading medical journals, researching. Did she not deserve the right to fulfill her dream? For the older people, it could have been a sanctuary for them as they were taken care of, respected and loved.
The night the congressman came to Jonestown, I stood at the back of the pavilion and shared some of my disillusion with my mother. She looked me in the eyes and said "Sweetheart, I am tired." She was 50 years old when she died. I began to really live at the same age.
When asked whether I have any regrets, I can only think of one: that the residents of Jonestown were not given a choice, especially the children and the senior citizens. As I finally brought myself to listen to the death tapes, I finally understood the desperation. What would have happened if everyone had survived? The first thought that came to my mind was our adults would have been tried for conspiracy and sent to a federal prison. It is believed that my husband Joe was one of the gunmen at the Port Kaituma airstrip; if that were true, he surely would have been put on death row. Our children would have been separated from a place where they were loved and nurtured, farmed out to foster homes; our teenagers would have been sent to either juvenile hall or foster care.
But what about the children whose lives were cut short: my niece Dawynelle Fitch and nephew Daron Davis; the teenagers and young adults such as Ellie Beam, Melanie Breidenbach, Shonda James, Emmett Griffith, Francine Crenshaw, Michelle Wagner, Mark Wagner, those whose life had just begun? Did they not deserve the right to their lives? My father, Richard Wagner, who loved his son, and Mark my brother, suffered tremendously. My son, Jakari, lost his father, who loved him dearly. Can I say that Joe was wrong to search for his son the day I escaped? No, I cannot. He wanted one thing for Jakari and I wanted another.
What was stolen were lives not just from our Peoples Temple families, but the lives of Congressman Ryan, Bob Brown, Don Harris, Greg Robinson, and Patricia Parks, a defector yearning for freedom. The trauma suffered by the Parks and Bogue families. The ongoing suffering of Monica Bagby and Ryan's assistant Jackie Speier who lay in the Guyana dirt bleeding and in pain. This event affected not just us, but generations to follow.
During these last fifteen months of mini-solitude, eating changes, and surrounding myself with people who have either accomplished their goals or are in process, was tapping into the supernatural gifts of God. In tune and open, I finally reached the point of being able to hear and discern God's voice. As I wait for the finished product, I continually bear witness to the manifestation of God's mercy and Grace. There is peace, a peace and stronger faith which has penetrated the core of my very soul. Never did I imagine that I could arrive in this place. Envy can be destructive, yet I envied people in my life who knew God, whose spirits moved towards God, whose actions spoke of God, whose integrity remained fast because of their relationship with God. Finally the shackles of my own self-inflicted limitations have been broken, and my spirit changed to a path of pure love, unwavering faith and the ability to forgive Jim Jones, and those that assisted with the death of Jonestown. Freedom.
For so many years I knew what my calling was: to share the Glory of God and all his mercy. But to come forward would take an understanding which I had not yet received. Remembering the night on December 31, 1977, as I stood behind the infirmary in Jonestown, looking up to the heavens, and praying to God, "this will be my last year here," reminded me that without work, faith is dead. The same faith that kept me the last thirty years is what brought me to Guyana to get Jakari; it is what put me in touch with Diane Louie and Richard Clark who trusted me enough to allow me to leave with them the morning of November 18, 1978. The same faith that delivered me through drug addiction, and gave me an understanding of all these years seeking a family through a relationship with a man, to realizing that all the love I sought could be found in God and my children. If along the way I find a mate that will enhance my life, then I welcome that.
My personal responsibility to my family who died is to share my testimony, my faith, and my love of God. This season has allowed me the ability to quote what my spiritual warrior sister Queen Belquis aka Cynthia Harmon would offer me: "Live their love and not their deaths." I encourage you to do the same.
With Peace, Blessings and always Universal Love
(Leslie Wagner-Wilson (Cathey) lives in Georgia. Her complete collection of writings for the jonestown report may be found here. An excerpt of her book, Slavery of Faith, appears here. She may be reached via leslie.wagnerwilson@yahoo.com.)
Originally posted on July 25th, 2013.
Last modified on November 10th, 2015.