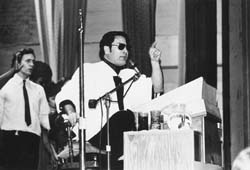 I was really hesitant about seeing Stanley Nelson's Jonestown: The Life and Death of Peoples Temple. Other movies and documentaries about that fateful day have not enlightened or helped me to understand what led so many to perish that day. Rather, they have sensationalized the story, literally making it about sex, drugs, and dark sunglasses, without speaking about the people who died and who they were. Yes, there was sex and drugs in the Jonestown story, but it was an ingredient, not the whole cake. What has been told over the years is an embarrassment to survivors and family members! This is why we have lived in shame, because – until now – no one was smart, brave and caring enough to tell the real story.
The real story needed to be told and included as part of our nation's history, that the people involved were American citizens, that they loved and were loved, and that they believed in living in a world of equality. We finally got that film.
I was not disappointed, but I wished more could have been told. All surviving former members' lives have been forever affected. My surviving aunt has been terrified since she left Peoples Temple and has not been the same. I am sure there are others like her. There is an anger felt by many relatives that needs to be addressed, a terror that Temple defectors still deal with, and of course, an almost universal shame. And something very interesting to me is how many former members and families have not returned to church and how their faith has been affected.
Still, this takes nothing away from the film's outstanding effort. Mr. Nelson is the first to humanize, individualize and take away the myth, similar to an urban legend mystique about the people of Jonestown. He stayed true to the movie's title and has allowed us to hold our heads up high, because now people will see those who died were made of flesh and blood! And they have families who hurt and grieve for the loss and want to come out of the closet, shout their names, such as, "Mary Pearl Willis was my beautiful aunt who loved me and I love her to this day!" And I am not ashamed to say it! "Mary Pearl Willis! Mary Pearl Willis! Mary Pearl Willis!" She died November 18, 1978 in Jonestown, Guyana, South America and I miss her every single day! And she is in heaven looking down at me saying, "I did exist!"
(Lela Howard is the niece of Jonestown victim Mary Pearl Willis. Her complete collection of writings for the jonestown report may be found here. She can be reached at lelavhoward@gmail.com.)
Originally posted on July 25th, 2013.
Last modified on October 4th, 2018.