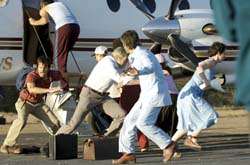 In the fall of 2005, a Toronto-based production company and its South African co-production partner, Film Afrika, hired Canadian director Tim Wolochatiuk to make a feature length docudrama on Jonestown. I was hired as researcher and Associate Producer. When the research process began, we quickly realized we had a complex task ahead.
Our intent was to find a way to tell the story of Jonestown in a way that was both respectful and compelling. We wanted to learn about Peoples Temple and its members. Everyone who worked on the project became absorbed by the richness and complexity of the story. It emerged that "Jonestown" was not just about a tragedy, it was also a story about the sheer humanity of a group of people who were trying change the world.
Jonestown: Paradise Lost is a feature length film made up of interviews, dramatic recreation and archive. We tell the story of the final days at Jonestown. Primarily our goal was to create a picture of Jonestown that was engaging and also historically accurate. It is a human story in all its incarnations, a story of extremes about love and hate, life and death, belonging and estrangement, freedom and oppression.
We were welcomed in the Bay Area by people who fearlessly shared their stories with us. The contributions of those who shared their stories both on and off-camera were crucial to our film. On behalf of Tim Wolochatiuk and our team, I wish to extend our utmost gratitude. Without your real stories and memories, our film would not have been possible.
For those who were directly involved, it is an ongoing story. From our outside perspective, we were moved by the intricacy of emotions the story Jonestown evokes in all of us.
We hope that Jonestown: Paradise Lost will contribute to the historical record of what happened, not just in Guyana, but to the surviving members of the movement. We hope that we have made something that illustrates the strength and struggle of a community.
We will furnish American airdates to this website as soon as we know them.
(Greta Knutzen's impressions from working on the film Jonestown: Paradise Lost are here.)
Originally posted on July 25th, 2013.
Last modified on December 26th, 2022.