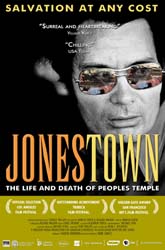 The 1960s were years of intense social and cultural tumult; it was the Age of Aquarius, when change was in the air, revolution was on the horizon, and all things seemed possible. Some looked to transcendental meditation, free love, Black Power, or LSD. But for others, Jim Jones, the charismatic and forceful leader of Peoples Temple, offered the perfect balance of spiritual fulfillment and political commitment. Jones not only preached about integration and equality, but also built an organization that provided food, clothing, and shelter to his congregation and his community.
On the surface, Jim Jones and his multiracial congregation espoused the values of a model society. But in the summer of 1977, an article in New West magazine exposed a different side of the Temple. Defectors and family members gave accounts of physical, sexual, and drug abuse, of financial corruption, and of members being held against their will. Within a few months – following a migration accelerated by the negative publicity –1000 Temple members had migrated from California to Jonestown, Guyana. On November 18, 1978, more than 900 Jonestown residents died in the largest mass suicide/murder in American history.
Using never-before-seen archival footage and survivor interviews, Jonestown: The Life and Death of Peoples Temple tells the story of the people who followed Jim Jones from Indiana to California and finally to the remote jungles of Guyana, South America in a misbegotten quest to build an ideal society.
Produced and directed by Stanley Nelson, Jonestown will broadcast nationally on public television's longest-running, most-watched history series, American Experience, in 2007. The documentary has already received several awards including the "Outstanding Achievement in Documentary" at 2006 Tribeca Film Festival and the "Golden Gate Award for Best Bay Area Feature Documentary" at the San Francisco International Film Festival. Most recently, Jonestown was nominated for the 2006 International Documentary Association Awards. It is currently in limited theatrical release around the country.
Firelight Media intends to use Jonestown as a centerpiece in a national outreach campaign leading up to the broadcast to help universities, places of worship, social justice organizations, and museums use the film to facilitate reflection and dialogue on the contradictions that defined the Peoples Temple: faith and zealotry, revolution and utopia, loyalty and coercion, charismatic leadership and demagoguery.
(Visit Firelight Media to view the trailer for Jonestown: The Life and Death of Peoples Temple.)
Originally posted on July 25th, 2013.
Last modified on November 11th, 2018.