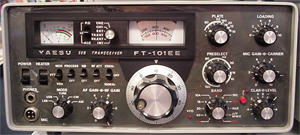 Last fall, after spending several years gathering information about Peoples Temple and its use of amateur radio, I created a website to present this research to the Temple community, scholars and researchers, and other HAMs besides myself (see last year's article here).
The site has grown tremendously in the last year. Some of the more interesting additions are:
A log book used in Jonestown to document radio contacts;
Several transcripts of radio conversations made between Guyana and San Francisco (including audio downloads for portions of these tapes);
Images of various QSL cards;
The Peoples Temple radio codebook.
Of course, there is still a lot of work to be done. One goal, with the help of Fielding McGehee, is to examine and edit a manuscript donated by Ed Westcott called, CQ Jonestown. Mr. Westcott made a few contacts with radio operators in Jonestown and did some independent research of his own. The end result of his work is this 90+ page manuscript.
Other goals include getting more transcripts, audio, and images up. Also, I am trying to put together a FAQ section to answer some of the more basic questions people might have.
I invite you to stop by the site and leave your comments. What do you think is the most important aspect of the Temple's radio communications? What questions do you think we should explore? Are there pieces of the puzzle which you believe are missing altogether?
While I invite input from all, I am particularly interested in contacts with people from the Temple who spoke on the radio, who maintained the radio equipment, who wrote radio codes, or who sent out QSL cards. I also welcome input from other HAM operators who monitored or recorded Temple radio communications between Guyana and the US.
I pledge to abide by all requests for privacy in these communications.
Thank you.
(Josef Dieckman has written extensively about both the so-called death tape (Q 042) and the "day after" tape (Q 875). His complete collection of writings for the jonestown report may be found here. He may be reached at joeyjosef@yahoo.com.)
Originally posted on July 25th, 2013.
Last modified on March 5th, 2014.