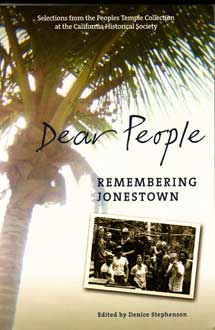 The two reviews that follow are of Dear People: Remembering Jonestown, edited by Denice Stephenson. 2005. San Francisco: California Historical Society Press, and Berkeley: Heyday Books. 172 + xix pages. $16.95 paper.
Voices of the Dead Haunt Pages of Dear People by Kimberly Winston
For additional reviews, see:
• The East Bay Express edition of March 30, 2005 [find "Heaven Knows"];
• The San Diego Reader edition of July 14, 2005; and
• The San Francisco Chronicle edition of April 14, 2005.
Originally posted on July 25th, 2013.
Last modified on March 11th, 2014.