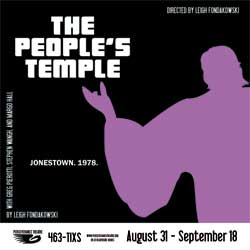 After a successful run in Juneau, Alaska at Perseverance Theatre, The People's Temple will be produced this winter at The Guthrie Theater in Minneapolis, Minnesota. Artistic Director, Joe Dowling, saw the play at Berkeley Repertory Theatre last spring and invited us to be part of his next season. The Guthrie Theater is one of the largest and most reputable regional theaters in the country. The play will open on January 7 and run through February 5, 2006 on the theater's main stage.
Our time in Juneau, Alaska was the perfect compliment to the physical and mental rigor of the World Premiere at Berkeley Repertory Theatre. Juneau, Alaska is a very small community, full of natural beauty. You either get there by boat or by plane! Not a day went by that I didn't see two or three bald eagles on my way to work. The community was very excited to have a group of professional actors in town. We were housed with local families who took us on a number of adventures from hiking to fishing to glacier viewing to dog sledding, not to mention many, many salmon dinners. The company had time to relax and spend time together in nature. It was a very nourishing time for all of us.
The audiences were very moved by both the play and the process, with many people coming back multiple times to see the changes we were making to the script. They wanted to talk about the play, most especially in the wake of Hurricane Katrina. I was stopped in a local coffee shop by a man who asked if I made up lines in the play so that it would be more relevant to today. When I answered that all the material was verbatim, taken from transcripts and documents, he was speechless. He just couldn't believe how little has changed in our society since the 70's. It is my hope that the play will continue to stir these kinds of conversations wherever we go.
Many artistic directors from across the country have expressed interest in producing the play in the 2006/2007 seasons. I will keep everyone posted as to what's next. Thank you for your continued support and enthusiasm for our work.
For more information on the play, please feel free to contact me through this website.
(On 25 May 2005, the US edition of the British newspaper The Guardian published a lengthy review of the play The People's Temple during its run at the Berkeley Rep.)
Originally posted on July 25th, 2013.
Last modified on November 7th, 2018.