As a member of the acting company of The People's Temple, I play a variety of characters. Most of the characters that I portray perished in Jonestown. One character in particular that I grew fond of was Christine Miller. She is a woman who during the final moments of the tragedy challenged Jim Jones. It is a scene taken directly from an audiotape that was recorded during Jonestown's last day. It is a very short scene between Jim Jones and Christine Miller, but it is one of the most powerful scenes in the play.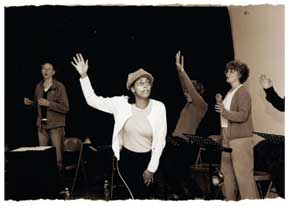 Since Christine perished in Jonestown, we did not have a live interview to use, so I had to use other resources for character development. I paid particular attention to what she sounded like on the tape, what were others saying while she was speaking, and what seemed to be going on around her. There are also photos of Christine to draw from as well as stories about Christine from people who knew her in Jonestown, how she often challenged Jim and how he appreciated her for her boldness.
There are numerous voices on the tape, some in favor of what Jones is proposing and some – like Christine – trying to find another way. We may at some point in our process add the other voices to the scene as well. So much chaos…so hard to really know what was going on in their hearts and minds. Christine Miller says to Jim Jones, "As long as there is life, there's hope. That's my faith." It's a philosophy that I share.
It is a pleasure every night to bring voice to Christine in her final moments of life.
The People's Temple
Written by Leigh Fondakowski, with Greg Pierotti, Steve Wangh and Margo Hall
(More information on the "death tape" may be found here. A biographical sketch of Christine Miller is at Christine Miller: A Voice of Independence.)
Originally posted on July 25th, 2013.
Last modified on September 15th, 2014.