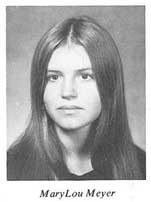 MaryLou Meyer is how I knew her. A bundle of energy. Kind of looked like me in grammar school, at Our Lady of Angels in Burlingame. I had to stay after school in 5th grade when Ms. Reagan thought it was me who was talking. But it was MaryLou; we both had pixie cuts and missing front teeth.
Mary Lou. A sleep over at your house with "Babs and Rolo" (the nickname you gave your parents, behind their back of course). Your pink and white bedroom. Too loud… your mother coming in late and telling us to keep quiet – especially you, because your "voice carried." You had polyps on your larynx, I think. You had a deep voice, and forever would sing loudly "my voice carries".
Those were the innocent years. You came to Disneyland with my family – you wearing my mother's great big hat, me screaming on Dumbo. You and I working on our tans at the Russian River, making and eating chocolate banana cream pies, playing ping pong and singing and dancing to "Jumpin' Jack Flash" by the Rolling Stones.
Your life long best friend (besides me!) was Terry Carter – and you two were always together. (Your mother didn't approve; Terry was being raised by her father.) You would sneak around to hang out together. Between you, Terry, me and the twins (Joan and Sue), we were a tight group. We did a lot together in grammar school – and high school. We were special friends.
Then off to Notre Dame. You played Second Hand Rose and gave a great performance, but then you left sophomore year, and went off to Mercy. We still adventured and explored boundaries together, sneaking out at night in our feet pajamas with curlers in our hair, only to go down to the local junior high and sit on the swings and smoke cigarettes. We thought – no, we knew – how cool we were.
Twain Harte was your family's vacation spot and I got to go. Oh, what fun! We were "in love" with our boyfriends, Barry (for you) and Mike (for me). Van Morrison's "Brown-Eyed Girl" was popular that summer. And you were the Brown Eyed Girl! I remember getting the munchies one night and your mother's shock at our late night appetite (I think we ate all the breakfast food out of the house)!
I think it was right around senior year in high school that you finally found out you'd been adopted – but it wasn't your parents who told you. Unfortunately, for them, they most likely thought they were doing the right thing by holding back that information – but it really hurt you. I heard rumors of big trouble at home.
We went our different ways, but were never very far apart. You met and married Tim Clancey; my mother gave you your wedding ring from her antique shop. I remember you visiting with Joan and Sue and me in Burlingame and taking time out to meditate. We just knew you were exotic and grown up. You seemed at peace.
You found Jim Jones around this time.
Before you went to Guyana, I remember talking to your mother and her telling about your trips back on the bus – if your mother gave you a new pair of boots/shoes, someone would take one away. I remember her saying that they took your jewelry (which was never much – your parents were not rich). I remember hearing that you and Terry were doing wonderful work for Jim Jones up in Ukiah; building a socialist community for the poor and elderly… Going to school… no more drugs. It was hard to reconcile those two versions.
You came to my house to say goodbye before going to Jonestown. You talked about the miracles that Jim Jones had performed at church – foretelling that a fire in your apartment – and it happened. You were talking about how our government refused to allow communist movies to be shown in our country. You talked about getting away from our oppressive government. To me, you sounded a little paranoid – but not overly so, when you consider we were talking about coming off the riots in the 60's, and me a hippie coming from UC Santa Cruz. We still had a poster of Nixon and Agnew in prison stripes hanging in our kitchen. I was sympathetic to your woes, and not thinking critically; I was naïve. But no one would have ever guessed.
You sent me a postcard from Guyana. I never imagined that I wouldn't see you again, hear from you again, or meet your husband.
I wish I knew then what I know now. I wish I had kidnapped you, sat on you, done anything I could to keep you here on earth. You couldn't know that you were flying off to die in the jungle. There were many others from Our Lady of Angels parish that died with you, or lost loved ones in Guyana. So sad for so many of us.
It bothers me deeply when people make light of what happened in Jonestown, or assume that everyone there must have been kooks, or that everyone chose to commit suicide. I know that's not true. I know deep in my soul that you went to do good, and that you gave your heart and soul to help others.
I feel sorry for your parents. You were their only one. They loved you. They were not perfect and made many mistakes. But they loved you. I wonder how and if they have survived without you. I feel so sad and angry for all who died in Guyana – for their families and friends.
I think of you often and miss you. There are so many times and places in my life where you should have been there. So many things I want to share with you. I love you, Mary Lou. You will always be in my heart.
(I need to thank Tim Carter for giving me some closure and support in dealing with the horror of Jonestown and the loss of my good friend, MaryLou. I thank him for filling in some of the blanks about what you were doing, and sharing some photographs.)
(When she isn't being a mom, Sally Archambault is working in the garden, walking her dog, and working hard to make the world lighter and brighter. She may be reached at billsall@comcast.net.)
Originally posted on July 25th, 2013.
Last modified on March 12th, 2014.