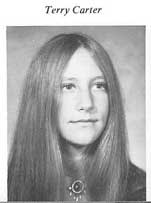 Terry Carter, in my memory, was always paired with MaryLou Meyer. They were the best of friends. But Terry was my friend, too. I remember her laugh – more than any other thing about her – and her beauty.
Terry's life was different than most of us in the 60's. Her mother had died, and her father didn't seem to handle being a single dad too well. Her older brother Tim was off to the Vietnam war for a while, and her younger brother, Michael, was in my younger brother's class at Our Lady of Angels in Burlingame. Terry was kind of the little mom.
Terry. Your house was the place to go after school because there was no one there to scold us. We had fun there. We sang the cool songs. We relaxed. I was always impressed by your independence – you knew so much more than I did about the world, Terry. In retrospect, that was probably because you had so much more to deal with than I did. But you seemed to deal with it OK; there was always that great laugh. I can see you rolling on the grass at Ray Park, laughing, making daisy chains.
My sharpest memory of you in grammar school is that critical transition from 6th grade to 7th grade when the boys start noticing the girls. And, boy, did you get noticed! What a beauty. And what fun. You'd gone off to visit relatives over the summer and came back grown up. You were the one the Beach Boys were singing about in their then-popular hit, "California Girls."
Your life long best friend was MaryLou Meyer – and you two were always together. You would sneak around to hang out together, because MaryLou's mom didn't approve of the friendship. We had a good group of friends: MaryLou, you, me and Joan and Sue (the twins).
We didn't see each other too much in high school. We usually connected in "the valley" – the fields behind Mercy High School, where we'd meet in the fort and smoke. There was a time that I was supposed to be grounded, but left the house anyway to meet you in the valley. As we all walked along, I got attacked by a bee hive. I remember that you were stung more than me because you were trying to beat the bees off of me with a stick. Thank you, Terry…
I remember seeing you and MaryLou at Joan and Sue's high school graduation. You and I lost touch after that. But I heard about you from MaryLou, and Joan and Sue.
I heard that you and MaryLou were doing wonderful work for Jim Jones up in Ukiah, building a socialist community for the poor and elderly, going to school. I heard you married one of Jim Jones' sons, that you'd had a baby, that you wanted to be a nurse.
It bothers me deeply when people make light of what happened in Jonestown, or assume that everyone there must have been kooks, or that everyone chose to commit suicide. I know that's not true. I know deep in my soul that you went to do good, and that you gave your heart and soul to help others. I know that you could not willingly end your baby's life…
I feel so sad and angry for all who died in Guyana – for their families and friends. I feel for your brothers, your father. And for me.
I think of you often and miss you. We should be friends, now. Sharing our experiences, laughing about life, activists together. In the aftermath of Jonestown, I've gotten to know your brother Tim a little bit. I hear your voice when I talk to him – and I am so grateful to him for that connection to the friend I lost so long ago. He is a wonderful man, still wanting peace and justice and true equality. You would be proud of him.
I love you, Terry.
(When she isn't being a mom, Sally Archambault is working in the garden, walking her dog, and working hard to make the world lighter and brighter. She may be reached at billsall@comcast.net.)
Originally posted on July 25th, 2013.
Last modified on March 12th, 2014.