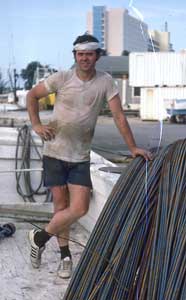 Jerry Livingston was my brother. I was the oldest and Jerry was seven years younger. We had two younger siblings. Jerry was a quiet, serious, sensitive, affectionate man, and I loved him very much. His youth was not the happiest, and he always seemed to be striving to get his father's approval and affection. He was not the athletic student, preferring to read books instead.
Jerry entered the Army when he graduated from high school and was gone for four years, doing his duty in Germany. Upon his return from the Army, he bought an adorable red MG convertible.
Jerry attended college for a year, but couldn't quite find his place in society. He seemed to be lost and depressed, and he was advised to move to Ukiah. He got a job at the Masonite Plant, and found solace and acceptance with a new church in the area, Peoples Temple. Jerry believed that the church was doing wonderful things for the impoverished and disenfranchised, and he felt happy to be a part of something that was meaningful. He had finally found a purpose, and he felt needed and had a direction.
We are not sure how Jerry's job changed, but he seemed to be doing more and more for the Temple. He often drove a bus from Ukiah to San Francisco for Temple meetings. He was not in frequent contact with his family during this period, because it was not allowed by the church, but on one occasion, he made a stop at his mother's home between Ukiah and San Francisco. He could not stay for a long visit and was fearful of Jim Jones finding out that he had made this unscheduled stop. He did not give a lot of information to his mother, but said he was happy and that he had met a woman from the church that had a child. We never got to meet Beverly or her son, and in fact never saw Jerry again. Fortunately his mother took a picture that day. That was our final contact with him. That is a very special picture to his family today, and how he will always be remembered in our memories.
In October 1978 we tried to contact him through the church when his mother was diagnosed with breast cancer. That's when we learned that he had gone to Guyana. We spoke with Congressman Leo Ryan just as he was leaving for Guyana, and asked him to deliver a message to Jerry asking him to contact us. We all know the story from there.
I feel like he has been a guiding spirit to all of his family, and especially my son as he has some of Jerry's actions and ways. I will always remember Jerry's shy smile and sparkling blue eyes. He is missed so much… a life lost much too soon.
This horrible tragedy has had quite an impact on Jerry's family long after the actual events. As the years have softened the deep heartache and haunting questions, our hope is that he has finally found the loving acceptance and peace he searched for in his life.
Remembered lovingly by his sister, Patti Nevills, and all his family.
(Patti Nevills is retired now and fills her days spending time with her grandchildren and great-grandchildren. If you have any stories to share about Jerry or Beverly, she would very much appreciate hearing them. You may email her at ninergigi@hotmail.com.)
Originally posted on July 25th, 2013.
Last modified on January 5th, 2021.