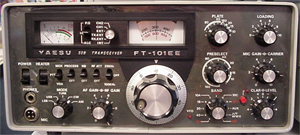 This past year saw several additions to the Peoples Temple "ham" website. Under the "Tapes" section, visitors will find three samples of Temple "ham" radio conversation taken from FCC tape transcripts, and one is the full length of the tape. There are also links to "ham" tape transcripts found at this website. The FAQ's section is still under construction, although two entries are now viewable.
Most recently I uploaded an article from the August 1979 issue of CQ magazine about Peoples Temple and their use of ham radio. It is a very informative and well researched article.
Newly posted are copies of documents related to the movement of the Jonestown ham radio transceivers in December of 1978. These are the same documents that the FBI claims it cannot locate.
Related to the website are my FOIA requests that I have made to the FBI. Updates of these requests are posted on the site, but are detailed here:
My original FOIA asking for documentation concerning the current disposition of the ham radio transceivers used in Jonestown in still under appeal, awaiting an attorney to be assigned.
My FOIA request for copies of the "Douglas Ellice tapes" is still in Tier-1 review with the Department of State.
My FOIA request for a clean digital copy of Q875 is currently being reviewed.
I have filed a new FOIA requesting the FBI locate and release the original Jonestown amateur radio log books.
Finally, I have requested that some 55 FBI documents containing information about amateur radio operators who made recordings of Temple radio traffic be unredacted and released. The documents contain the names and call-signs of the operators who made the recordings. Having access to this information would help me greatly in my pursuit to contact these hams and possibly acquire copies of the tapes they made.
(Josef Dieckman has written extensively about both the "Death Tape" (Q 042) and the "day after" tape (Q 875). His complete collection of writings for the jonestown report may be found here. He can be reached at joeyjosef@yahoo.com.)
Originally posted on July 25th, 2013.
Last modified on February 28th, 2014.