Jonestown happened when I was 15. I remember the looks on the faces of my teachers and other adults around me at the time, and emotional impact it obviously had. Was it shock, depression, guilt, all of the above? I'm not sure, but I remember. Living in the East Bay probably made their reactions that much stronger.
My memories of Jonestown's impact – refreshed by coverage of the tragedy on the tenth anniversary, reinforced when I attended memorial services at Evergreen cemetery some years later – have inspired a film script I have written about the Jonestown massacre. It follows a present-day family that had been in Jonestown. Just prior to the deaths, the father abandons his family, and when the rest of the family escapes, the children assume their father died that day. He didn't, and is now a local politician. In the thriller genre, the plot follows the twists and turns of their journey to confront him, all while incorporating flashbacks of Jonestown and simultaneously following a PI who uncover the untold truths of Jim Jones and all his political connections to those in power at the time. These are only elements of the story, but they are based in fact.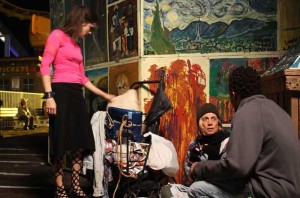 I included the Jonestown history as part of the story because I felt there is an important lesson to be learned and that the mainstream perception is misunderstood and wrong. I should also point out this is a small indie film, and thus a tough sale. I wrote the script and shot the trailer. which was completed a week prior to the 30-year anniversary of the Jonestown Massacre.
Unfortunately, my project has yet to come to fruition as a feature. While it has been optioned and received good feedback, there hasn't been funding or enough interest to make this happen. More disappointing is a Bay Area organization that is supposed to support local projects and in which White Night fills all their criteria – in that it is historic, and tells the story of a disenfranchised group ­– has ignored the project for three different application processes to the point of not even reading the script. Instead, they have supported filmmakers who haven't even written a script, let alone placed a project into production and generated partial funding.
Jonestown is a subject that is very important to the Bay Area, and last year's application review coincided with national news of the dedication of the controversial memorial at Evergreen Cemetery. Sadly, I came to the conclusion that to tell a story which may lead to the embarrassment of important figures or which recounts a piece of history that involves the lower class, may be too difficult or uncomfortable for a sub-culture of those who remember to handle. But I have not given up and hopefully someday White Night: Survivors of Jonestown will make it to the screen.
I do want to express my support to all artists, historians, documentarians, and survivors who work diligently at educating the public regarding this subject matter. This is an important piece of history that should never be forgotten. It was Stanley Nelson's excellent documentary that planted the seeds in my mind for my project. White Night: Survivors of Jonestown reveals the truths of one of the saddest and bizarre and important moment of SF Bay Area History, and if there is an audience for Milk, there is an audience for this. I take heart in that the script for Milk – once called The Mayor of Castro Street – had been floating around since the early 90's.
I invite you to review my trailer at http://www.whitenightmovie.com/, and I welcome your thoughts, both positive and negative. I can be reached at Alex.Skycycle@yahoo.com.
Originally posted on July 28th, 2013.
Last modified on November 14th, 2013.