Remembrance of Joyce Touchette
by Don Beck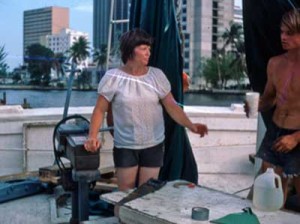 The Touchette family came to the Temple in the early 70's through Joyce's parents, Helen and Cleave Swinney, members who had came from Indianapolis when the church moved to California. After visiting one summer, Joyce, Charlie and their four children – Mickey, Albert, Mike, and Michelle – decided to move to Redwood Valley to join the Temple.
Joyce used to joke about how she had been a member of the country club set back East, and even showed me a picture of herself in fancy clothes and hairdo. She was always very different from that in Redwood Valley – unpretentious, down-to-earth, informal, and direct – which was why it was so hard for me to see her as having been in the "social set."
Joyce was the one who became the mother to Mr. Muggs, the chimp that the Temple took in. She was amazing with him: like a mom chimp, she learned how to handle him, which took some doing. Even as a young chimp, Muggs was quite strong, and grew stronger as he matured. But seeing her work with him made you realize she was also strong, at least enough to handle herself easily.  One of the first things built in Jonestown was a large cage for Muggs, who went to Guyana in December 1974 on the chartered plane visit.  He became the first permanent resident of Jonestown.
In the summer of 1974, I went to Guyana to help prepare for the first settlers coming in from Miami on the Cudjoe, the trawler we had bought. Mom and Pop Jackson had arrived just before me, and there was a total of about ten people waiting to greet the newcomers. When the Cudjoe arrived in July, five Touchettes were on board – Joyce, Charlie, Mike and his wife Debbie, and Albert – bringing the settlers to about twenty.
It wasn't until I went to Jonestown with Tom Grubbs to set up a school for the children in the summer of 1976 that I got to know Joyce better. In the evenings we gathered in the open area of the main building and talked about the community we were building, sharing our experiences in Peoples Temple. It was always a positive time of closeness and sharing.
Early on, Joyce decided I needed to lose weight (I wasn't really overweight, just under tall, as Patty Cartmell would say). Until I did, I was allowed only coffee for breakfast. When I lost about 15 pounds, I got to add pancakes to my breakfast!
Charlie and Joyce were "in charge," but were more like parents to everyone. Though Charlie handled purchases and construction, Joyce was, in quiet ways, the power behind running Jonestown smoothly. And she stayed in that capacity until Jim led the mass migration in the summer of 1977.
Joyce was like Earth Mother: nurturing, looking after everyone, a take-charge person, and problem solver (as mothers often need to be). She was hard working, like her mom Helen Swinney, though not as abrupt in her manner with people.
She was also a jack-of-all-trades, just what was needed to build a town in the jungle. She was good at mediating situations and doctoring cuts, bruises, or whatever came up. If you had a problem, she would make time to talk and follow up. She and Charlie were in charge of the Guyanese crew we hired to clear, prepare and plant in the first few years. She was also a good cook.
When I remember Joyce Touchette, I see her face with a quiet smile that comes from the understanding of hard work and taking care of family as Jonestown grew from the jungle: husband, children, the settlers of Jonestown, and Muggs. For me it is impossible to remember Jonestown without her presence.
(Don Beck is a regular contributor to the jonestown report. His other articles in this edition are Thank You, Leigh!, A World Unto Itself: Life in the States after Jim Jones Moved to Guyana, and Expenditures by Peoples Temple in Guyana. His earlier writings appear here. He may be reached at donbeck@cox.net.)
Originally posted on July 28th, 2013.
Last modified on December 31st, 2020.