I was not alive when Jonestown happened – I mentioned that when I wrote for this publication two years ago – and my passion for learning about the people was completely accidental. I had discovered the "Cult Section" at my college's library, and curious, I read Rebecca Moore's book, Understanding Jonestown and Peoples Temple. After this discovery, and eventual consumption of every Jonestown-related book I could get my hands on, I began to make art about the people and stories I had gotten to know within the Peoples Temple history.
Of course, creating art about such a group of people and such an event leads to lots of questions and comments. Older people want to tell me about how they remember the headlines and news coverage (and ask me why I am concerning myself with it), and younger people want to know what the heck it was. And again and again I have to say, "It's not about how they died, it's about who they were and what they believed while they were alive."
However, my passion for the Peoples Temple members' lives aside, I recognize the incredible number of questions I receive means that my art has to be an introduction to the story, while acknowledging how it ended. And I have to know my stuff – names, dates, times, laws, the good, the bad, and the ugly. My art has to be both informative, and yet convey my love of the people I've "met" in my pursuit of knowledge. It has to be an illustration of these people, and also admit to what happened to them. People have to recognize the event, but see it in a whole new way. This is the delicate balance I attempted while making art for my senior show at Messiah College, the culmination of my higher education career, and a large show with a huge audience of people.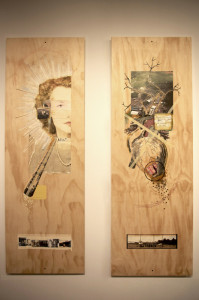 I created two panels telling two different stories, the two different sides of Jonestown. One was light, the other dark. One was what Jonestown could have been, and the other is how it turned out. One was the beginning, one was the end. One acknowledges goodness, the other, destruction. I chose to highlight Marceline Jones in the first panel, as my icon of what could have been. She has always been a fascinating person to me, her role in the community and her struggles with that role. The artwork is anchored by a string of photographs at the bottom of Peoples Temple families… children playing, young adults marrying, people smiling. The second panel is darker in color and heavy in spirit. It features an aerial photograph of Jonestown after the bodies were removed, the dream effectively wrecked and bulldozed over. It has a large print of a heart, weighted at the bottom by boxes of Flavor Aid. This panel's work is anchored by the visiting Congressman's entourage standing near the plane they are ultimately killed beneath.
At five feet tall, both panels are impressive and encompassing. Both are highly textural. They have masking tape, paint, string, glue, thread, cuts within the wood, splattered ink, layers of paper, newsprint, sawdust, tea stains, dirt, shredded dryer sheets, toxic gold pigment. They are handmade out of rough materials the way that Jonestown was. People get close to them, and sometimes reach out and touch them. Then they stand back and look at both as a whole, how they compliment each other, and how they contrast each other.
A few weeks after the opening of the show, I gave my artist talk to fellow students and art faculty (and anybody else that was interested). Of course, after describing my artistic influences, giving examples of previous work I had done, and explaining my process, most of the rest of the artist talk was about why I chose Jonestown. One person asked, "Now that you've accomplished this and several other pieces on this theme, are you going to choose a new historical event along the same line? Such as Heaven's Gate, or Waco?"
My answer is what it always is: "I am not a 'cult-fanatic.' I don't feel drawn to the subject in general. I do, however, feel drawn to the people of Jonestown. I think their story is honest and humanizing. I think what happened to this group of people could have happened to anybody, and that is why I choose to make art about them."
I hope only that the two panels convey the same silent testimony.
(In addition to her previous writing for the jonestown report, Allison Coleman Shank published an artist statement presenting her reflections on Jonestown as part of a showing at the Yellow Wall Gallery in Harrisburg, Pennsylvania.  She can be reached at allison.mere@gmail.com.)
Originally posted on July 28th, 2013.
Last modified on December 5th, 2013.