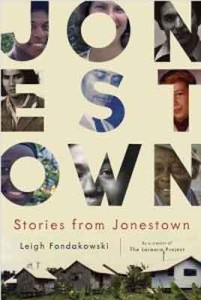 Stories from Jonestown, a book by playwright Leigh Fondakowski based largely upon interviews she conducted in the course of researching her play, The People's Temple, is scheduled for publication in February 2013. The work will be published through the University of Minnesota Press.
A contributor to the jonestown report for several years, Leigh's reflections upon completion of the book are here.
The jonestown report solicited reviews from different segments of its readership. Those reviews include:
Even before its release, it has received some publicity, including extended quotes from the work under the title of "Rethinking the Kool-aid" in the September 2012 edition of Harper's Magazine. The book has also received pre-release reviews from Publishers Weekly and Library Journal.
Originally posted on July 28th, 2013.
Last modified on October 23rd, 2013.