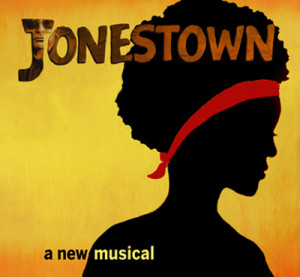 This past April, I took a challenging step toward getting Jonestown, a musical I co-created, out to a wider audience.
At the end of last year, my collaborator and I were excited to learn that our show was accepted for a developmental reading in April at a respected Off-Broadway theater. This opportunity was the result of many little steps: recording a demo with performers who were in a previous reading, rewriting parts of the book, sending out query letters, looking for allies, and spending lots of time waiting.
With every new draft, we strived for more accuracy and clarity. I had done much research using primary and secondary sources, including many found on this site. Even though we were using fictionalized characters, I wanted our dramatization to be a meaningful depiction of Temple life. For example, the old draft had a character in breaking into the offices of New West magazine to get a look at the exposé being written about Jim Jones. Then I learned that the "break-in" had actually been the work of a staff member who had accidentally locked himself out and who let himself back in through the window. So I took that plot point out to make the story more factually correct. I also made an effort to invite people with a connection to the Temple to the April reading so I could get good feedback about our representation.
As our rehearsal process started, though, my co-creator and I realized our vision for the show had somehow completely diverged from each other. After years of working together rather fluidly, suddenly we were disagreeing in all the key areas. It's hard to pinpoint where the problems started, but small disagreements snowballed during the intense two weeks leading up to the show.
The stakes felt higher this time, for sure. The previous readings had been self-produced, and we hadn't had to answer to anyone but ourselves. Now we were presenting our work in conjunction with an established theater. Truth be told, they were blessedly uninvolved in our creative process. Other than the time slot, we were essentially free to call all the shots. Somehow, though, we were feeling pressure as if it was a make-or-break opportunity.
Tensions during the rehearsal process led to rash decisions. We even ended up having to recast some actors only days before the show. This kind of chaos can be all too common behind the scenes of any production, but it felt like we were unmoored. There was a 24-hour period where my stomach was in knots, and I wasn't sure we would even be able to mount the reading.
It was during this 24 hours that I learned the most. I reached out to every contact I had. I asked – damn near cried – for help from colleagues, something I've always had a hard time doing. And I discovered that even the most backwards situation can be turned around with persistence and some humility.
We presented the reading as planned, but while watching it, I had a hard time seeing past all the rough edges and pacing problems that came from our uneven rehearsal process. I was amazed by the performers and their commitment, but I felt that we let them down by not having a unified vision at the start.
I carefully listened to feedback from audience members afterward. Reactions ran the gamut, but most people felt an emotional connection to the Temple members. Some audience members told me they had a new understanding of why so many moved to Jonestown against their better judgment and what led to the militarized atmosphere there.
In the aftermath of our reading, the fate of the show remains uncertain. After years of working together and taking baby steps toward a full production, my collaborator and I find we no longer have the enthusiasm to move forward together through the daunting obstacles of this venture.
As a result, I've stopped to take stock of how this journey has affected my life. I'm ultimately glad I went down the proverbial rabbit hole by immersing myself in the Temple's history. In trying to wrap my head around the lives and choices of Temple members, the deceptions they were subjected to, the legacy that survivors live with, I have a richer understanding of the social forces that shape life in America today. I also understand that my desire to make sense of Jonestown is closely tied to my struggle to reconcile my religious upbringing with my identity as an openly gay man.
I believe there is a basic merit to studying any complex chapter of history, examining the various conflicting viewpoints and trying to infer the unspoken common ground between them all. For myself, the subject happened to be Jonestown. For other scholars or artists, it may be the Iraq War, the Inquisition, British colonialism, the Cold War. Working on the musical through so many drafts gave me a reason to venture deep into the mysteries and contradictions of Peoples Temple. What I've come away with, apart from the musical itself, is actual wisdom that I use in my day-to-day life. I'm no longer quick to reduce any current political issue, because my study of Jonestown has taught me that full immersion is necessary for true understanding.
I'm also extremely grateful for the connections I've forged with other artists while working on Jonestown. I met Skip Brevis, a generous and multi-talented musical director; Ramona Pula, a fiercely organized and dedicated director; and Brianna Horne, a powerhouse actress who delves into the complexities of the material.
It was a privilege to work with every actor, director and crew member who was involved in the various readings. They inspired me with their craft, and I got to share with them my understanding of the Temple.
So even if I never get to present Jonestown as widely as I once dreamed, it's impossible to feel too much regret for the time and resources we invested into this story. I count it as a personal, if not theatrical, achievement.
(Notices of the readings appeared in early April 2012 in several theater publications, including Off-Broadway World and TheaterMania.
(Carl Kelsch lives right outside NYC. He can be reached here.)
Originally posted on July 28th, 2013.
Last modified on November 12th, 2018.