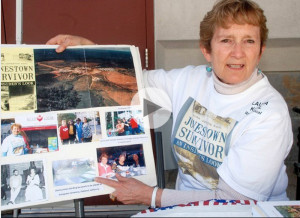 After I published Jonestown Survivor: An Insider's Look in March 2010, I anticipated that I'd be able to take a breath. That hasn't happened.
In some ways, I'd been writing the book in my head for about 12 years. I was first able to talk openly about my survival in 1998, when I reconnected with fellow survivors for the 20th anniversary of the deaths in Guyana. Since then, I have been interviewed in every media forum. I was driven to clarify everything I know about the people of Peoples Temple.
When I started the actual writing process about five years ago, I may have thought that, by putting everything on paper, I would be able to empty my head. But that turned out to be the first half of my task. It's one thing to publish a book, it's something else for people to know you've published a book. I had to become my own publicist. Even while still teaching my sixth graders, I have traveled around the country visiting universities, libraries, Quaker venues, service clubs, writing events, conferences, and friends' homes to tell my story and to open a dialogue. I have sold over 900 printed and electronic copies, and tried to provide a forum where people can both learn and talk about the topic once considered taboo: Jonestown.
If there has been a shift in the last year or so, it is that many of my speaking engagements seem to be more academic now. I speak to Sociology, History, Religion, and Political Science students. I have also been approached in recent months by others who have faced trauma, not just people damaged by cults, but also by holocaust survivors and military veterans with PTSD. I feel that I have lived a life that gives hope for overcoming grief and trauma, and if I can convey that hope to others through Jonestown Survivor, I will have succeeded beyond my wildest expectations.
I might just have the one book in me, although I plan to have many interviews and write articles for different publications. I expect I'll always have a lot to say and write about my experiences in life.
I don't really know where I'll end up. The one thing I am absolutely sure of is my activism. Now, I am involved with writers' groups and scholarly groups in conferences, but my heart is in humanitarian and political issues. I am a parent and a wife; I am part of Occupy Escondido; I am a teacher; I am a Quaker; I am an active supporter of many humanitarian issues.  As I dance between the past – now nearly 34 years since the deaths in Jonestown, and the present, and the future – I know I will continue to work to change the status quo.
(Laura Johnston Kohl, who had lived in Jonestown but was working in Georgetown on 18 November, died on 19 November 2019 after a long battle with cancer. She was 72. Her writings for this website appear here.)
(The website for Laura's book Jonestown Survivor is here. It was reviewed by The WriteEdge Bookshelf, a project of the WordPress website for book aficionados (also available here). Her blog on her site includes a number of articles, including A Gathering of Peoples Temple Survivors, Grief,  and Going Home Again.
(Laura was also interviewed for a podcast in November 2011 that appears here (scroll down to Baycast #2; program begins after 30 seconds of intro music).)
Originally posted on July 28th, 2013.
Last modified on December 28th, 2021.