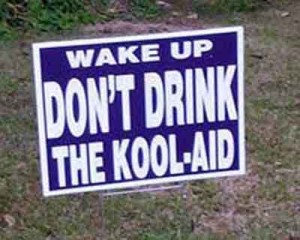 The expression "drinking the Kool-Aid" is now deeply embedded into American slang. While its origins are painfully understood by most of the people who visit this site, it's also true that no one knows when or in what context it first entered our slang lexicon. As time passes, two other characteristics of slang will occur: its earliest meaning will morph into a multitude of derivatives – indeed, that has already begun to happen – and fewer and fewer people who use it will know where it came from.
This past year saw the publication of several Internet commentaries on the use of the phrase than in the past, most within two months of the 2011 anniversary of the Jonestown tragedy. The blogs and articles included:
• Kool-Aid, Hemlock and Confucius by Rodney L. Taylor, Ph.D., The Huffington Post, 26 April 2012
• Would You Drink The Kool-Aid? by Pamela King Cable, Southern Fried Woman, 15 January 2012
• Don't 'drink the Kool-Aid', by Meghan Daum, The Los Angeles Times, 17 November 2011
The LA Times piece – the one which received the most publicity – also received the most response, much of it chastising the writer for being politically correct or merely inappropriate. The comments are summarized here. The comments reflect the recent shift in the use of the phrase: the anonymity of the blogosphere seemingly encourages often uncivil – if not viciously angry – discourse, and many writers have increasingly adopted the phrase as a weapon of attack against those who dare to disagree with them.
Finally, Forbes Magazine declared the expression "drinking the Kool-Aid" as "the most annoying business jargon of 2012." "The expression means to blindly accept something—such as a company's 'mission statement'—and it's nearly as bad as the notion of robotic allegiance itself," the magazine said in its announcement of the "award."
This listing presents other recent efforts by writers or bloggers to consider the context of the phrase itself, to explain its origin, or to argue for the care people should take in using it.
This website also has a collection of articles and reflections on "Kool-Aid" as an image and as an expression.
• A 21st-century addition to American slang – even if not yet quite as ubiquitous as "drinking the Kool-Aid"  – is the use of "jonestown" (both capitalized and lower case) as a descriptor. In addition to the examples offered in last year's edition of the jonestown report was this more recent use:
HSU accused of 'doing a Jonestown', an Australian article reporting on the response of the head of the Health Service Union after a no-confidence vote on her.  "Everyone is going to drink the Kool-Aid," the article reports Kathy Jackson as adding. (The story also appeared here.)
Originally posted on July 28th, 2013.
Last modified on May 20th, 2020.