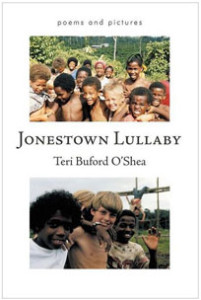 Teri Buford O'Shea's book Jonestown Lullaby – which was released in late 2011 – received additional publicity after last year's edition of the jonestown report was published. Teri was also interviewed numerous times in conjunction with the release of her book, including:
• The Canadian Broadcasting Corporation's program "As It Happens."

• The Republican, a Massachusetts newspaper, print interview, as well as reflections by Fred Contrada, the interviewer.

• Yahoo Shine.
Teri's own reflections upon her first year as the author of a published book appear – not unsurprisingly – as a poem entitled "Transformation Song."
Two poems from Jonestown Lullaby appear in the Reflections section of the jonestown report. Previously published poems on this website appear on her webpage.
Originally posted on July 28th, 2013.
Last modified on November 11th, 2018.