To read the German translation of this article, click here.
Eine deutsche Übersetzung dieses Texts finden Sie hier.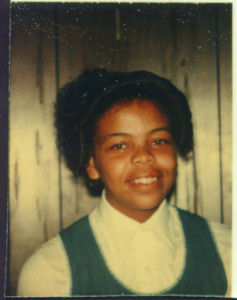 Melanie Wanda Hector was one of eight children born to Lena and Edward Hector. As a child, Melanie was shy and carefree. She loved reading, old western movies, and music. She was affectionately called "Old Lady Sucky," because her calm and reserved nature was like the soul of someone who had lived many, many years.
One of my fondest memories of my sister is bicycling together as young girls. I distinctly remember how happy I felt that my big sister had taken the time to spend with me, and just how perfect that day was for a bike ride.
Our family grew up in Southern California. Melanie graduated from Washington High School in Los Angeles, where she had been a member of the drum and bugle team.
Melanie was raised as a Christian. However, when she met her husband, Michael Simon, she joined his church, Peoples Temple. Michael and his family had already been very involved with the church, and Michael's mother Pauline and brother Anthony even worked for the church.
Michael and Melanie were members of Peoples Temple in Los Angeles, but after the birth of their daughter Aisha, the family of three moved to San Francisco. They gave all of their possessions to the church and lived in a one-room apartment. Michael still worked for the church while Melanie stayed home, caring for their daughter. When Michael's mother and brother decided to go to Guyana, Michael went with them, and Melanie followed her husband.
Melanie was always a little overweight. When she sent a picture of herself in Guyana, we saw she had lost at least 100 pounds. We hardly recognized her.
Melanie and her two daughters – Aisha and Zateese – died in Jonestown. Michael survived the carnage at Jonestown because he happened to be in Georgetown to see a dentist when the deaths occurred. He returned to the U.S. and contacted us once. We haven't heard from him in over 30 years. I would like to find him, and ask that anyone reading this who knows him to ask if he would contact us.
* * * * *
My sister Melanie had a big heart and enjoyed caring and nurturing others, which prompted her desire to go into the nursing field. She was a down-to-earth person and fully dedicated mother. She was very much loved by her five sisters and two brothers.
When her first daughter Aisha was born, I saw a side of her I had never seen before.  Becoming a mother absolutely brought out the best in her. She loved her daughter more than life itself, and I know that love extended to her second daughter as well.
Dear Melanie, you will never be forgotten.
Written with love
(Jacinta Hector Powers' other article in this edition of the jonestown report is A Visit to Peoples Temple. She can be reached at kevinjacinta@aol.com.)
Originally posted on July 28th, 2013.
Last modified on October 8th, 2019.