In 2010, I reported on a project I had undertaken that no one else had done: my Peoples Temple related 1/12 scale sculpting and related dioramas. In the last two years, I have been working on simultaneous projects off and on the whole time, with both progress and setbacks. As with any project of this magnitude, some of the setbacks are due to my realizing a better and more realistic technique to use and then having to redo something or add to it – and thus become a step forward.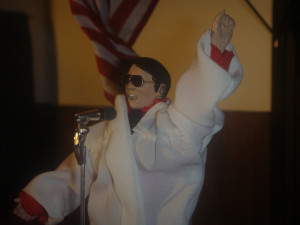 For example, I spent many hours researching internet sites, documentary stills, and old magazine photos looking for the Redwood Valley pulpit, but I think that the resulting reproduction was worth the effort and the stage and back walls are coming along as well. These projects have taught me newer techniques in working and building with modeling wood and fabrics of every type as well as more detailed sculpting techniques.
These dioramas have taken much more time than I had originally anticipated, but I have now completed several movable dress figures and am working on the stage backdrops for the photos. One of my figures has been on tour with the Vision Strength Access art studio (known simply as VSA) project for the last year and has been displayed at mid-level art museums across Texas.
I have what will result in a long term series of Peoples Temple/Jonestown related scenes based on video footage and photos in the works. The most involved of these is a group of static sculptures representing Jim Jones' final press interview in Jonestown, its complexity due to all the detail involved in the various characters that appeared on the news footage. There are at least two group photo reproductions using dress figures in the works as well.
My latest idea is to build a small scale model of the Jonestown community as it appeared from the air. I'm planning to use small scale train set material and architect supplies for this project. This will be another experiment for me as I've never before worked with these materials, but I feel optimistic that it will be a success.
(Daniel Russell's previous article in the jonestown report is Joining the Temple Community. He can be reached at russellscaledown@gmail.com.)
Originally posted on July 28th, 2013.
Last modified on December 5th, 2013.