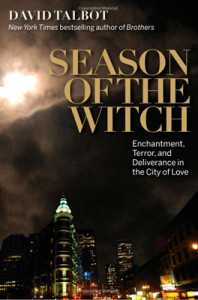 Season of the Witch, written by Salon founder David Talbot and published in May 2012, is a history of San Francisco during fifteen years of turbulence between 1967 through 1982, and the political movements, social trends and cultural icons that defined the city during that period. While the book also covers such subjects as the Symbionese Liberation Army, the Zebra murders and the Zodiac Killer, Charles Manson, and Altamont, much of the book – and reviews of it – focused on Peoples Temple.
A three-part excerpt from the book discussing Peoples Temple appeared on the Salon website on May. The excerpts include:
• "Jim Jones' sinister grip on San Francisco"

• "Peoples Temple's inside man"
The jonestown report solicited two reviews from its writers. They include:
• You've Got To Pick Up Every Stitch, by Jennifer Kathleen Gibbons

• Replowing Old Ground: Season of the Witch and Peoples Temple, by Tanya Hollis
Other reviews include those in:
• OregonLive, 9 June 2012

• BeyondChron, "San Francisco's Alternative Online Daily," 17 May 2012

• The San Francisco Chronicle, 6 May 2012
Originally posted on July 28th, 2013.
Last modified on May 14th, 2020.