You recognize it in the performance of the unit. Leadership doesn't mean you have to be a "character" or wear two pistols and scream and yell a lot. Some of the most effective leaders I've seen have been quiet and unassuming, but you saw the results of their presence. The performance of the organization is the ultimate measure of a leader.
Colin Powell
(Avolio & Bass, 2002, p.19)
"I come with the black hair of a raven. I come as God Socialist."
Jim Jones
(Reiterman & Jacobs, 2008, p. vii)
Abstract
For years, researchers have tried to answer the question, "Are leaders born or made?" Traditional research into leadership involves becoming familiar with theory, and examining how it is exemplified by well-recognized individuals. I wanted to try a different approach – and chose to obtain a criminal justice degree so that I could continue studying leadership, but from a new perspective. This article summarizes the research for my thesis of the same title. The goal of the research was to adopt an anthropological methodology to examine the environmental factors, relationships and behaviors of two individuals in an effort to better inform law enforcement personnel who utilize criminal profiling as an intervention and prevention tool.
Take any two individuals who exhibit the same leadership qualities, share similar experiences through the period in which they grew up; and look for the key factors that took them down the path they chose and you will find the fine line that separates them. Jim Jones and Colin Powell are both charismatic leaders who grew up in the same time period. The similarities and differences in their lives are examined in an effort to understand charismatic leadership and hopefully to answer the age-old question, "Are leaders born or made?"
Family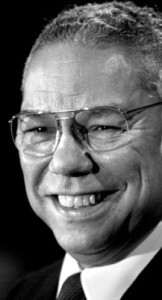 Family is a notable difference between Jones and Powell when they were young. Powell is the son of immigrants who appeared to have weathered the Depression well. They both worked in the garment industry and provided a stable home for their children. They were a close-knit family, surrounded by their extended family, which set positive examples and instilled a strong work ethic, high level of integrity and strong family values. The Powell family was proud of their Jamaican heritage and joined many social organizations formed by other West Indians. They distanced themselves from American blacks, mostly because of their heritage of freedom from slavery decades before them (DeYoung, 2006).
In contrast, Jones' family struggled financially after losing their farm in the Depression. His father was unable to maintain full-time work due to an old war injury, meaning his mother had to work and was away from the home most of the time. His father was almost absent, spending more time reading or listening to baseball rather than attending to his young son. This left little time for social activities. Research showed little about Jones' extended family and some sources indicated Jones was most influenced by a neighbor (Reiterman & Jacobs, 1982).
A commonality between the two men is the type of woman they married. Both Jones and Powell married smart, professional women who were also the primary caregivers for their children. Powell was absent for the births of his first two children, away on combat duty. Even when he was home, he was preoccupied with his Army duties (DeYoung, 2006). Early in their marriage, Jones and his wife took in a young family member who later refused to be adopted by him because Jones had lied to him about his mother's desire to care for him. Jones' used his children as manipulation tools; they were pawns in keeping Marceline married to him when she threatened to leave him (Reiterman & Jacobs, 1982).
Environment
Both men were raised in the time when segregation was still common. Powell was raised in Hunt's Point, New York, a community of West Indians, Italians and Jewish immigrants. Despite the multiracial neighborhood, Powell was still segregated from most other races and nationalities. His family kept with other West Indians, almost self-segregating themselves from American blacks. Jones grew up in predominantly white neighborhoods in the Midwest. Jones' desire was to integrate races, and he started with his family by adopting children of other races. Powell easily fit in with the white soldiers with whom he served, mostly due to his light skin and lack of southern drawl.
Other factors in their environment that influenced them were their relationships with others and general performance in school. As a young boy, Powell had many friends. They often played together in the neighborhood, re-enacting battles from that week that they would see on the newsreels (DeYoung, 2006). Jones had to use enticements to get friends – he used his menagerie of pets as an attraction. He would adapt his personality to whomever he was interacting with; loner and bookworm to his peers, innocent to his neighbor, and entertainment to the local men who used to give him money to cuss (Reiterman & Jacobs, 1982).
In school, Powell was a mediocre student who switched majors in college. He did what he had to do to graduate, and wasn't sure about what he wanted to do. Jones was highly intelligent at an early age, able to read at a junior high school level as early as third grade. Both men were in search of a place to belong. Powell found it in school when he joined City College's Reserve Officer Training Corps; for Jones it came to him when he was younger and visited a Pentecostal church.
Religion
The greatest similarity between the two men was the role of religion in their lives. Religion was a significant influence on both case subjects. Powell was an acolyte and subdeacon in his church (DeYoung, 2006). The Powells were devout Episcopalians, and Colin's faith was an important factor in his life. His faith shaped the values of integrity, honesty and loyalty, as exemplified by his commitment to his Commander in Chief, even when it appeared that he had been used as a tool to gaining the United Nations' concurrence to invade Iraq.
Jones began experimenting with religion at an early age (Reiterman & Jacobs, 1982). He would don robes and preach in town (Reiterman & Jacobs, 1982), but as he aged it appeared religion was merely a means to an end – a way for him to carry out his socialist ideals through Peoples Temple. Jones combined a unique blend of grandiose and visionary spirituality with destructiveness (Hough & Twemlow, 2008).
Both Men as Leaders
Both men rose to positions of significant power and authority. Powell was the youngest two-star general in the military. He later became Chairman of the Joint Chiefs of Staff and also served as Secretary of State. Powell was very well-respected, both in the military and in civilian government. When he received a poor rating from a supervisor, several people intervened and provided him additional opportunities to serve and grow. Powell aligned himself with high-powered officers and civilians, enabling him to spend time not only in high-profile military positions but also traditionally civilian roles (H. Broomall, personal communication, 7/16/12). He exuded confidence and a sense of enthusiasm with a genuine desire for others to be involved (T. Ostebo, personal communication, 7/27/12).
Powell used his dynamic communication skills to influence others (B. Prunk, personal communication, 8/6/12). He was an articulate officer who inspired many minorities to dream big and set high but attainable goals for education, service and quality contributions to the nation (H. Broomall, personal communication, 7/6/12). His strong leadership acumen led him to being a superior, dynamic military leader (Anonymous, personal communication, 7/19/12). He led by empowering his subordinates to succeed regardless of rank and by effusing optimism and cultivating consensus (Anonymous, personal communication, 7/19/12). Powell led by example; always providing a positive role model for peers, subordinates and often time superiors, by providing the voice of reason on difficult, tough and controversial issues (P. Aylward, personal communication, 7/19/12).
Like Powell, Jones surrounded himself with influential people. He became involved in politics as a way to gain support for his socialist ideals and to increase membership in Peoples Temple. Jones served in two prominent appointed positions in local government, one of which was for the city of San Francisco. As Jones grew in notoriety, he was swept up in the wave of power, doing anything he needed to achieve his goals (S. Harris, personal communication, 7/10/12).
Jones' charisma made members of Peoples Temple believe that their utopian dreams were a real possibility (Anonymous, personal communication, 7/10/12). When new recruits to Peoples Temple met Jones for the first time, he presented himself as effective, direct and persuasive – they believed he was serious about making positive change (L. Kohl, personal communication, 7/12/12). However, Jones manipulated people to align with his goals, becoming "all things to all people" (Reiterman & Jacobs, 1982, p.156). People saw Jones differently – some as sincere and intelligent and others as a master manipulator. He led by creating an immense sense of loyalty to him, through a vicious cycle of reward and abuse.
Goals
Both men held fast to the goals they had set for themselves. Their goals related directly to the paths they chose in life. Powell put his country first, as evidenced by the fact that he would not choose a political party while on active duty, remaining loyal to the president whom he served. He joined the Army to serve his country, and constantly sought assignments that would take him out of the office and back into the field. Powell wanted to be with his troops and serve alongside them (DeYoung, 2006). As a general, he was successful by focusing on the implementation of mission and goals (Anonymous, personal communication, 7/19/12).
Jones goal was simple – socialism as a rejection of the American racist society (Richardson, 1980). Jones' goals of an integrated socialist community attracted many to Peoples Temple more so than even himself – the community exuded a sense of warmth and felt welcoming (T. Carter, personal communication, 7/24/12). Many feel that Jones' goals were clouded, and he became overcome by the desire for more power and less on the socialist ideals he started with.
The Fine Line
So, what really is the fine line between Jones and Powell? It breaks down to two key factors: contrived charisma vs. natural charisma; and followership.
Both Jones and Powell had natural charisma – but as they grew in power they became exposed to "contrived charisma." There is a certain aura associated with positions of power. We see this in the military in the form of salutes and pomp associated with generals and admirals. Yet, as Powell grew in power – even when he was Chairman of the Joint Chiefs of Staff – he returned his own mail and calls (DeYoung, 2006). As Secretary of State he often engaged the cleaning crew and parking garage staff in conversation and would treat them with the same dignity as if they were a foreign head of state. Jones was quite different. As he grew in popularity and power, he let it "go to his head" (L. Kohl, personal communication, 7/12/12). Jones became power hungry and would do anything to reach his socialist ideal. In many of the research interviews, respondents often used the common phrase, "the ends justifies the means" when referring to how Jones lost himself in the contrived charisma. Throughout the study, the researcher encountered tales of Jones abusing his followers – emotionally, mentally and physically.
Without willing followers, no leader can accomplish their own goals. Both men had willing followers who pushed them to do things they may not have naturally done. People do not join the Army because they have the desire to kill another human – they do it to protect their nation and way of life. Membership in Peoples Temple was also voluntary. No one joined it because they wanted to participate in a mass casualty event. They joined because the wanted to be a part of a social cause and they stayed because they had developed a strong emotional bond to the Temple, and in some cases to Jones himself through traumatic bonding – the endless cycle of reward and punishment (Dutton & Painter, 1993).
Leaders lead – sometimes for the good and sometimes not. Regardless, there is a fine line between the good and not-so-good, and anyone can fall on either side of it. Are leaders born or made? For these two men, their upbringing, including relationships with family, friends and environment in which they were reared, greatly influenced the men they became. It was those early influences that set them on their paths; Powell as leader of the nation's military and Secretary of State and Jones leading Peoples Temple into a mass casualty event. Those same influences continued to shape how they interacted with others.
So, based on my research my answer is that leaders are both born and made. I believe leaders are born with "it" inside them – but their environment and relationships shape what they do with "it."
References
Avolio, B.J. & Bass, B.M. (2002). Developing Potential Across a Full Range of Leadership: Cases on Transactional and Transformational Leadership. Mahwah, NJ; Lawrence Eribaum Associates.
DeYoung, K. (2006). Soldier: The Life of Colin Powell. New York, NY; Random House Publishing.
Dutton, D.G. (1993). Emotional attachments in abusive relationships: A test of traumatic bonding theory. Violence and Victims, 8(2), 105-120.
Hough, G. & Twemlow, S.W. (2008). The cult agent s a psychotic fantasy of masochistic group death: The revolutionary suicide in Jonestown. Psychoanalysis & Psychotherapy, 24(4), 222-228.
Reiterman, T. & Jacobs, J. (1982). Raven: The Untold Story of the Rev. Jim Jones and His People. New York, NY, Penguin Publishing.
Richardson, J. T. (1980). People's Temple and Jonestown: A corrective comparison and critique. Journal For The Scientific Study Of Religion, 19(3), 239-255.
(Dr. Cheryl Seminara manages all leader development programs for the Federal Emergency Management Agency (FEMA), a component within the U.S. Department of Homeland Security. She has recently completed her studies for a Criminal Justice Master's and Homeland Security Graduate Certificate at American Public University. For more information on the Fine Line series or to read the full manuscript, she can be reached at cheryl@cherylseminara.com.)
(The author wishes to thank the following individuals: General (Retired) John Abrams;MG (Retired) Peter Aylward; MG Hugh Broomal; MG Joseph Carter; Tim Carter, Survivor, Jonestown; Sherwin Harris, Co-Founder, Concerned Relatives Group; Stephan Jones, Survivor, Jonestown; Laura Kohl, Survivor, Jonestown; Dr. Kerry Muehlenbeck, American Public University; RADM Tom Ostebo; MG Bruce Prunk; Cliff Shrum; MG Errol Schwartz; Rikke Wettendorf, Editor, the jonestown report; Dave Wise, Pastor (Former), Peoples Temple of Los Angeles)
Originally posted on July 28th, 2013.
Last modified on December 5th, 2013.