In addition to the stories by artists, composers and filmmakers in this section of the jonestown report, we learned of these other developments within the past year:
• A painting entitled "Jonestown Radio" was one of the top ten sold at an auction in 2010, according to Daily Art Fixx, a British arts website. Painted by 47-year-old Briton Ged Quinn, the 6'x8' oil on canvas was sold at Sotheby's for $289,000. It depicts a lawn chair evoking Jim Jones' "throne" in Jonestown next to two tables littered with cups, pitchers, and pharmaceuticals, but the setting is more idyllic, reminiscent of 18th century European art styles.
• Escaping Jonestown, a short book written for young adults by 19-year-old Juliea Christine, was published online in July 2012.
• Don't Let Kids Drink the Kool-Aid, a book by Marybeth Hicks on the state of education in the 21st century, continued to be promoted by a number of conservative blogs in early 2012. As Phyllis Schafly, founder and president of the Eagle Forum wrote in January, "[Hicks] says that the culture wars are over and parents lost. An entire generation of young socialists has come of age, and few parents have even noticed. Marybeth Hicks tries to remedy this ignorance by telling parents what they are missing as their kids grow up amid the never-ending onslaught of liberal indoctrination that takes place in the public schools and in the media." (Editor's note: The Eagle Forum website blog on which the posting appeared is now defunct.)
• The blog for "Debut YA [Young Adult] Dystopian Writers" opens with Lenore Appelhans' observation that "in life and in literature, one person's dystopia is another person's utopia," citing Jonestown – and specifically "a propaganda film … starring a smiling guy proclaiming that Jonestown was a utopia" – as her illustration. "And he was not the only one at the isolated Jones compound who thought that."
• A play which had a run in New Orleans in October 2011 was not specifically about Jonestown, but – in the mind of at least one reviewer – evoked images of the ill-fated community. "What does Jonestown have to do with The Future is a Fancyland Place, recently on the boards at the AllWays Lounge?," wrote Dalt Wonk. "Nothing in terms of revolutionary suicide, but everything in the sense that truth can be stranger than fiction. Even this fiction.… [With] 27 scenes, each given a Biblical name such as 'The Promised Land,' 'A Pillar of Salt' and 'Theology,' the play deals with eschatology and science run amok… [with] a Jonestown-like malevolent surrealism."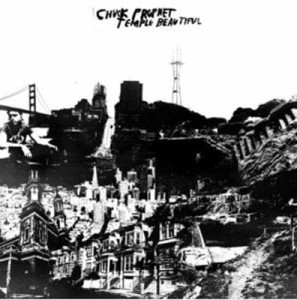 A number of musical artists and groups have incorporated the icons – and even the very name – of Jonestown into their own images in recent months. Among recent discoveries:
• Chuck Prophet, former guitarist for Green on Red, has produced a solo album called Temple Beautiful, which one review described as Prophet's "own lyrical love letter to his adopted home town of San Francisco – albeit a love letter daubed in the blood from Halloween homicides, the assassination of Harvey Milk and the seedy underbelly of the city, following the heyday of the Haight-Ashbury hippie revolution." As illustration, as a second review notes, the CD – and title track – is "from the name of a punk club that opened on the site of the Rev. Jim Jones's Peoples Temple, following its members' mass suicide in Jonestown, Guyana."
• Ghosts of Guyana, a rock band out of South Dakota, released its second album, Astral Projections, in July 2012. Although lead singer Matt Lias said in one interview that the reference to Jonestown in the band name "was all sort of a joke," he added that this whole album is themed around weird stuff. One of our songs is about mind control programs by the government."
• Joecephus and The George Jonestown Massacre – a Memphis band that the critic for Ringmaster Review describes as bridging the country music genre with punk, rock and metal – released its second album Arockalypse Now in July 2012.
• The Peoples Temple – a self-described Rock / R&B / Soul / Sixties / Surf / Garage / Punk band from Lansing, Michigan – released a video "Axeman" from its second CD in July 2012.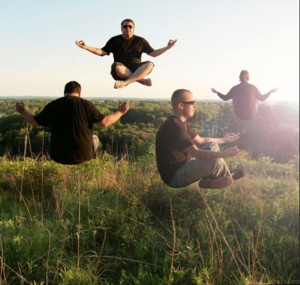 • A different band with a similar name – Peoples Temple of America – released nine songs online in April 2012.
• The music video Bloodless, which the hardcore punk rock group Jonestown issued on YouTube in February 2012, includes a storyline that ends with a distraught boyfriend stepping into a closet with a hangman's noose awaiting him.
• Hardcore punk group mypethandgrenade released a track called Jonestown Kool-Aid in January 2012. Warning: The lyrics are graphic and explicit.
• The music video Jonestown Calling by neo-acid rock group Pinball Wizard and the Acid Kings includes a montage of images from Jonestown – mostly from the day of the tragedy – and memorial services at Evergreen Cemetery.
• While the rap CD I Am the West by Ice Cube was released two years ago, the official video of the lead track Drink the Kool-Aid – with several references to blacks "step[ping] up to the altar" to drink the "holy water from the holy father" – wasn't released until late 2011. Warning: The lyrics are graphic and explicit.
• The track "We Kill Kids" – released in December 2011 by hardcore punk group Jonestown '78 – opens and closes with snippets from the so-called "Death Tape."
• The self-described thrash metal group Jonestown released several tracks in November 2011, including "Stand Up", "Killing Streak", "Death Tape", and "Burning Black Gold." The lyrics for all these songs evoke images of Jonestown, and "Death Tape" includes an extended portion from the tape that gives it its title.
• The electronica group EC50 also includes an extended portion from the "Death Tape" in "Jonestown Kool Aid mix," a sample of which may be found here.
Originally posted on July 28th, 2013.
Last modified on May 20th, 2020.