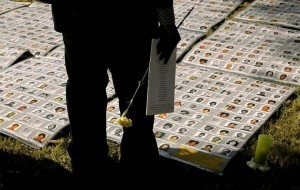 Over the last few years, I have brought large panels of photographs of our relatives and friends who died at Jonestown, and displayed them at Evergreen during the annual memorial services and at the dedication ceremony in May 2011. With the encouragement of many of you, I decided to put these photos into a book format for anyone who would like to have this collection in a more portable format.
I've had several setbacks in production, including losing a hard drive and all emails and files on my laptop (but no elements that weren't stored on my other computer, on disks or printed out). It's also taken time to acquire the electronic tools I had at my disposal when employed. Since retiring last January, I've had to gather them on my own.
As a result, I don't anticipate the 100 volumes I plan to have printed will be ready by this November 18th. Instead, I will shoot for Christmas 2013 or Chinese New Year 2014.
(Kathy Barbour [Tropp] joined Peoples Temple in 1970 with her companion, Richard Tropp, and was living in the San Francisco Temple on November 18, 1978. Her other articles in this edition of the jonestown report are The United States of Jonestown and Chicago Students Visit Evergreen. Her earlier writings on this site can be found here.)
Originally posted on October 13th, 2013.
Last modified on October 29th, 2022.