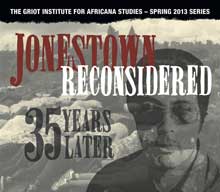 During the spring semester of the 2012-2013 academic year, the Griot Institute of African Studies at Bucknell University in Lewisburg, Pennsylvania offered a course entitled Jonestown: 35 Years Later. Created and led by Dr. Carmen Gillespie – the institute director and a poet whose book, Jonestown: A Vexation, was published in 2011 – the course featured eight speakers from around the country.
1.       The series
2.       The speakers
3.       The students
5.       Jonestown Reconsidered: A Report on a Forum, by Carmen Gillespie
Originally posted on October 13th, 2013.
Last modified on March 11th, 2023.