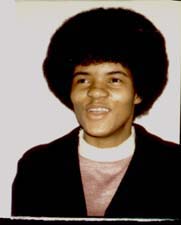 I first met Ava Cobb in the summer of 1970. She was a member of one of the few African American families living in Redwood Valley at that time. She had a contagious smile and a sparkle in her eyes to match it. But the first real thing that brought us together was, we were teenagers in Peoples Temple.
Ava and I found out that we had many similar opinions and goals, and it wasn't long before we were fast friends. One of our favorite things was listening to music on KDIA-AM radio. Motown was churning out Top Ten hits, and the smooth sounds were cool to listen to. She and I would sing along to Stevie Wonder and the Temptations. On more than a few occasions, she made a point of letting me know that singing was not one of my finer qualities.
Young people in the Temple were expected to help with whatever that was needed to be done, and Ava was very involved with them. Everything was new and exciting. Even a mundane task such as letter-writing was fun when Ava was helping.
Some of my fondest memories that I have of Ava are from when we lived in the dormitories in Santa Rosa. Move-in day was always filled with a flurry of activities. Ava and Susan shared a room together. Using a minimum amount of materials, they were really skilled at turning their rooms into little oases. I, on the other hand, was not as creative. Ava showed a bit of concern for me and offered me a hand at setting up my desk and bunk to make it a little more comfortable and functional.
I still smile when I think of the extra effort that Ava and some of us young people put into getting our Afros just right for whatever occasion we were participating in. Ava always made her best "Angela Davis" presentation after meticulously rounding off her very large Afro to perfection.
The period of time when Ava and I shared our most serious moments was during the San Francisco worship services. We would sing with the choir and then, when Jim started the "healing" segment of the meeting, Ava and I would take on our assignments issued by Patty Cartmell. We were to position ourselves in strategic locations in the auditorium. Once Jim performed a healing, Ava and I would approach the individual and get their permission to document the details of their experience. This information was later compiled and submitted to Patty for further use. We were careful to get our task done efficiently and expeditiously. Ava and I felt that our service was an important part of the cause, and the fact that we were entrusted to do it was considered an honor.
I defected from the Temple in the early seventies and was never in touch with my friend again. I have thought of her many times over the years and wondered what her life was like in the Temple in later years. The memories I have of her will always stay with me. I miss her.
(Vera Washington is a regular contributor to the jonestown report. Her previous articles can be found here. She can be reached at reginav8@yahoo.com.)
Originally posted on October 13th, 2013.
Last modified on February 13th, 2018.