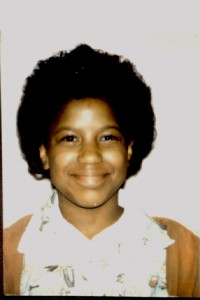 Although she was younger than I, Sonje Regina Duncan was one of my closest and dearest friends.
We first became friends and formed a pretty tight bond before I left the States ahead of her to go to Jonestown. When she arrived in her new home, she – like many of us – was excited to be there. All the familiar faces that had arrived before her welcomed her, and we all looked forward to the birth of her child, who would be born in such a beautiful place like Jonestown. Unfortunately, her enthusiasm did not last very long. She soon found out that she could not come and go as she pleased in Jonestown. She might never have realized how many others felt the same way; certainly I didn't until well after the tragedy.
Having been in Jonestown close to a year by the time Regina arrived, I considered myself more experienced in these matters, so I would try to encourage her to give her new home a chance to grow on her. Jonestown was the best thing that happened to us, I said, and she would eventually learn to love it as I did.
Regina arrived in Jonestown on March 31, 1978, and a little more than three months later – on July 7, 1978 – gave birth to a beautiful baby girl named Ebony Patrice Duncan Jackson. Her pregnancy had prevented her from doing a lot of the things she wanted, most especially being a part of the Jonestown "Drill Team." A lot of the young girls – myself included – were on the Drill and Dance Teams, and we were allowed to leave Jonestown on several occasions for performances. She begged me to ask the Drill Team to let her join, but the powers-that-be would not let us add any more members.
After Regina had Ebony, she wanted to do something more than just work in the nursery. I would spend days with her and Ebony when I wasn't working, and she and I talked often about the States and especially about what she missed: her friends, her family, and – it came up over and over – her freedom of movement. She was not at all happy in Jonestown and often confided in me about how she wished she could take Ebony and leave. She had ideas for the kind of life she wanted for her daughter, and Jonestown wasn't part of it.
I went to Georgetown in October for extensive dental work, and during my time there, I would receive letters from my friends telling me how much they missed me and that they wished they were there with me. Regina's was one of the last letters I received. She told me how much she and Ebony missed me, and how she didn't have anyone to talk to after I left. Despite the reason I was in Georgetown, she said she wished it was her. At least she would have had a chance to see some new surroundings, some new scenery. She was still trying to join the Drill Team. I even received word from one of the other members that she asked to take my place for any performances while I was gone.
I miss our confidential conversations and how she used to thrust Ebony towards me every time she saw me. As I was leaving for Georgetown, Regina started to cry. When I asked her why, she said because I was leaving and she was going to be stuck in Jonestown. It wasn't like I wasn't coming back, I replied, and once I was back, I wouldn't be able to leave again unless we were going somewhere to perform. She hugged me and thrust Ebony at me for a kiss on the cheek. I smiled at her and told her to dry her tears, that I would be back before she knew it.
She walked away holding Ebony tightly.
I never made it back.
I miss both of you, Sonje Regina Duncan, and your beautiful daughter, Ebony Patrice Duncan Jackson.
(Dawn Gardfrey was in Georgetown with her grandmother, Ruby Neal Johnson, on November 18. Her other articles in this edition of the jonestown report are The Loyalty of Johnny Moss Brown, Keeping in Touch through the World of Social Media, and Surviving November: My Life After Jonestown Moves Forward. Her previous articles are here. She can be reached at dawn.gardfrey@gmail.com.)
Originally posted on October 13th, 2013.
Last modified on July 25th, 2018.