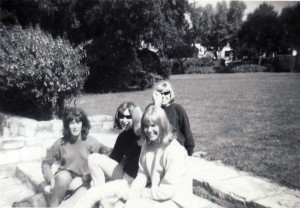 "Ode to Carolyn"
You, so worldly and intellectual,
Me, pretending to be so,
Envious, like the green chameleon.
Spending hours talking, our bodies
Sinking into the Quad's cool grass,
Our active minds trying to
Make sense of Camus and Sartre:
"Is there a 'raison d'etre' in life?,"
"Wow! Look at his derriere!"
Exciting, we, like crimson tulips
Exposing ourselves to the world.
"Wonderment"
Wondering, wondering
about long lost friends
of bygone past.
Searching, searching
the Internet.
Finding, finding
faces, sometimes not.
You, I already know your fate,
yet still………..
Wondering, wondering
about the magnetism
that pulled you in,
never letting you go.
(A second piece on Carolyn Moore Layton by Kathy Sparrow appears here in this year's edition of the jonestown report.)
Originally posted on October 13th, 2013.
Last modified on August 21st, 2014.