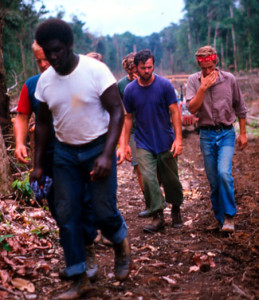 Anthony Simon came from Los Angeles and was one of the first members to volunteer go to Guyana in April 1974. Along with several others – Tim Swinney, Mike Touchette, Greg Frost and Les Matheson – Anthony's work was to acquire, prepare and man our boat, the Cudjoe, and to prepare the way for building Jonestown.
By June 1974, the Temple's presence in Guyana included an apartment in Georgetown and the use of a residence hall of ten or so rooms in Matthews Ridge in the Northwest District, about 25 miles from the Jonestown leasehold. Mom and Pop Jackson arrived with Chris Lewis in early June. I also arrived in late June, but I stayed just for the summer.
At the time, Jonestown was only officially finalizing on paper, even as it began to emerge from the jungle. Physically, the Jonestown leasehold consisted of a road "carved" through the jungle going to a central area of twenty acres being cleared for settlement. Folks lived in Matthews Ridge until the first housing was ready in January 1975.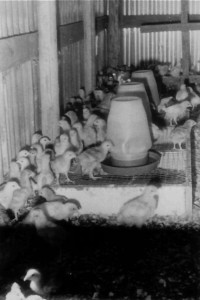 Anthony initially worked on the Cudjoe with Tim and Mike, but eventually decided to be our poultry man and supervised building the first chickenry where baby chicks – flown in from Georgetown to Port Kaituma – were raised. He started doing research on raising chickens, working with the Guyanese agricultural advisor and relying on a number of college texts and professional books he requested from the States through me. It was his passion for "chicks" that let us see Anthony's exuberance in what he did. For example, though Anthony had never been a good reader, when you asked questions about our chickens, he would quote book and page, in telling you what we were doing and why. Amazing!
It was a complex task, especially since we had no resources to build the chickenry other than what we provided ourselves. The decision on its location, the building design, the equipment and supplies we needed, the scheduling for the arrival of the first chicks – all had to be planned and prepared under his supervision. His efforts were apparent when I returned for the summer of 1976: several buildings along the road into our lease went to the central area of Jonestown. The piggery and barn for our cattle and horse were built there as well, about one mile in on the road to Jonestown living area.
Anthony had become motivated and involved in his work in Jonestown, more than he had ever been in the States. As master of the chickenry, Anthony's smile, good nature and focus on his work made his motivation, knowledge and satisfaction more than apparent.
(Don Beck was a member of Peoples Temple for ten years. He directed the Peoples Temple children's choir during its Redwood Valley years and made several trips to Guyana during its pioneer days. Beginning about 20 years after the tragedy, shortly after this site went online, he became one of its most dedicated researchers, transcribing Edith Roller journals, reviewing and analyzing Jonestown records released through the Freedom of Information Act, and compiling them for the first section of documents on the Jonestown Research page. He also contributed numerous articles and remembrances. Most of those writings may be found here.)
(Don died on July 9, 2021, following a lengthy illness. He was 78.)
Originally posted on October 13th, 2013.
Last modified on July 24th, 2021.